Start of summer season is well off last year's pace
There were 77,189 business aviation departures in Europe during May, according to WINGX`s latest monthly Business Aviation Monitor published today (June 6th).
This figure represents a second successive YOY decline of 3%. Year to date, European business aviation activity is now down by 1.7%, with five and a half thousand fewer flights than in 2018. The last 12-month trends are currently flat.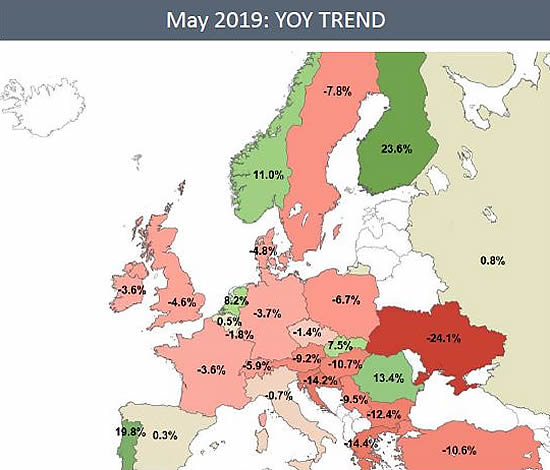 The busiest 3 markets, France, Germany and UK, were all down by 4% of more, and Switzerland saw a drop of 6% in activity. Spain was flat, Norway up by 11% YOY.
Private activity was down by most this month, with Owner business jet flights slumping 7% YOY; 9% down in business jet activity. Charter/AOC activity was flat overall this month but flattered by growth in Business Piston.
Small and Midsize Jet activity suffered most this month with 5.3% fewer flights. In contrast, Large Jet flights were up by 0.7% YOY. In France and the UK, Small-Mid activity fell 10%. The UK also had 5% fewer Large Jet flights, although these aircraft were up 9% from Spain.

Overall, declines in business aviation activity were biggest out of France, Germany, and the UK - down 4.5% - with all 3 markets down at least 2% YTD. Flight activity was flat in Spain, up by 11% in Norway, but down 6% in Switzerland this month.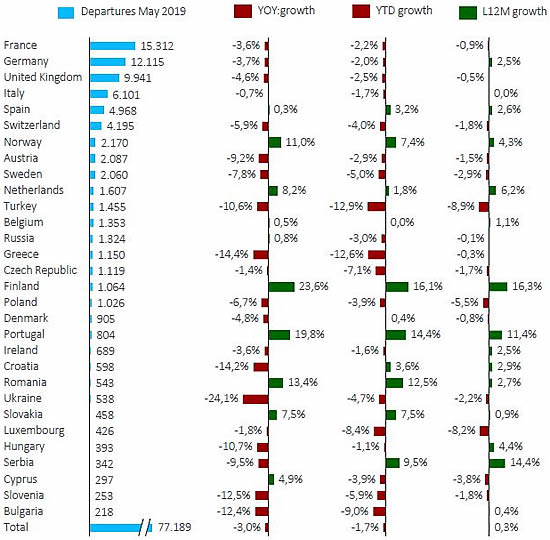 Business aviation flights within Europe were down 2.9% but still trending up by 0.4% in the last 12 months. May flight departures to almost all global regions were down, notably to Africa, -10%. Flight to South America were up 5% YOY.

After 2 months of heavy decline, Charter/AOC activity stabilised in May, but there were large declines in Turboprop, Midsize, Entry and Very Light Jet segments. The Ultra Long-Range segment continued to see strong growth in Charter/AOC, up 9% YOY.
Aircraft
Cessna aircraft activity fell back 8% this month, with owner flights down by 18%. Gulfstream and Dassault flight activity fell slightly, whereas Embraer and Bombardier flights climbed 5%, especially in Charter/AOC. Lear Jet activity declined 7% YOY.

Overall market activity was supported by growth in King Air 200, Challenger 300, Latitude, Global Express and Legacy 600 platforms. The big declines came in Citation Mustang, Gulfstream GV/500, CJ1 and Hawker 700-900.
Airports

Farnborough was the only top 10 airport with growth this month, with largest drops in activity at Cannes and Nice - departures falling more than 10% YOY. Both Geneva and Ciampino have declines of over 10% so far this year.
Richard Koe, Managing Director of WINGX, comments: "A second consecutive drop of 3% in YOY business aviation activity confirms an increasing slowdown in the European market in 2019, reflecting the somewhat downbeat sentiment at EBACE. Symptomatically, whilst Nice and Cannes had their usual busy months in May, comparable YOY activity at these airports was down at least 10%. The Brexit stranglehold on business activity in Europe, and especially UK, is showing up in the continuing stagnation of flight demand out of London. Small and Midsize Jet activity is most affected, and particularly in owner flights, suggesting that discretionary trips have been put on hold."

---
WINGX is a data research and consulting company based in Hamburg, Germany. WINGX analysis provides actionable market intelligence for the business aviation industry. Services include: Market Intelligence Briefings, Customised Research, Strategic Consulting, Market Surveys. WINGX customers range from aircraft operators, OEMs, airlines, maintenance providers, airports, fixed base operators, fuel providers, regulators, legal advisors, leasing companies, banks, investors and private jet users.