Switzerland
Air Service Basel triumphs during Art Basel 2019
The Air Service Basel team rolled out the red carpet for traffic headed to the city for its annual international art fair: Art Basel from 10–16 June. This year, the FBO saw a record 10-times the average daily movements on the first day of the show to kick off the festivities.
And still the operation's handling agents never missed a beat. Air Service Basel supported guests with high-end services and efficient support for the duration of the event with the utmost consideration for customer care, receiving glowing customer feedback:
"In 34 years of flying, I cannot recall seeing a more efficient team effort," remarked a captain on the show's fourth day. "All the more remarkable due to the very busy day . . . absolutely first class service."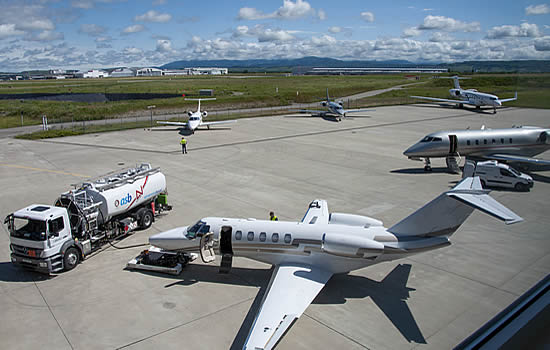 Air Service Basel FBO saw a record 10-times the average daily movements on the first day of Art Basel 2019.
The show, dating back to 1970 with 90 galleries and 30 publishers, now boasts modern and contemporary works from more than 4,000 artists shown by the world's leading galleries at the Swiss exhibition site, Messe Basel.
For Air Service Basel, the week-long event - encompassing VIP viewing the first half of the week and public viewing the last half - presents a unique opportunity to serve discerning clientele from throughout the world, greeting returning guests and welcoming new customers.
The FBO was a convenient choice for event traffic, situated just 10 minutes from Messe Basel after arriving on the tarmac for a smooth transition from the air to the show. And while passengers enjoyed Art Basel, crews relaxed in Air Service Basel's well-appointed pilot lounges for some much-needed respite.
The FBO handling agents further served the needs of international travelers with professional customs and complete concierge services, such as transportation arrangements. This was in addition to the availability of hangar space for secure aircraft parking, and completing maintenance and fueling needs while passengers attended the event for streamlined, on-time departures.
"We always look forward to welcoming guests to Art Basel," said Laura Gambell, Air Service Basel's marketing communications manager. "We have the opportunity to be their first and last impression for the week's trip, and strive to excel in every little detail to deliver a VIP experience for the show. Now that the event is over, we'll reflect on our operations and begin preparations for next year."