United States
Planet 9 celebrates 1st anniversary
Doubles employees to over 60, including 35 pilots
Planet Nine Private Air ('Planet 9'), the Van Nuys, California based private charter operator and aircraft management company celebrates its first birthday this week.
In the eleven months since it first took to the air it has touched down in 262 different airports with its Dassault Falcon 7Xs. Its longest charter routes have connected Tokyo, Japan with Dundee in Scotland and Washington Dulles International with Tahiti in the South Pacific. Globally, Paris and London have been Planet 9's most popular charter destinations - from Van Nuys and Teterboro.
Its workforce, which started out at 35 in June 2018 has grown to over 60, including 35 pilots - five of them female.
Planet 9 enters its second year with an expanded fleet of five next generation Falcon 7Xs, plus one managed Gulfstream G650, newly added to its Part 135 charter certificate. A second Gulfstream - a G550 - joins its aircraft management division in July. Planet 9 also manages a privately owned Bombardier Global 5000 based out of Teterboro.
"We are very pleased at how we have been accepted in the premium ultra long-haul charter market," said Matt Walter, Planet 9 Co-founder. "The success we have enjoyed would not have been possible without the dedication and hard work of our employees and the industry partners who have supported us."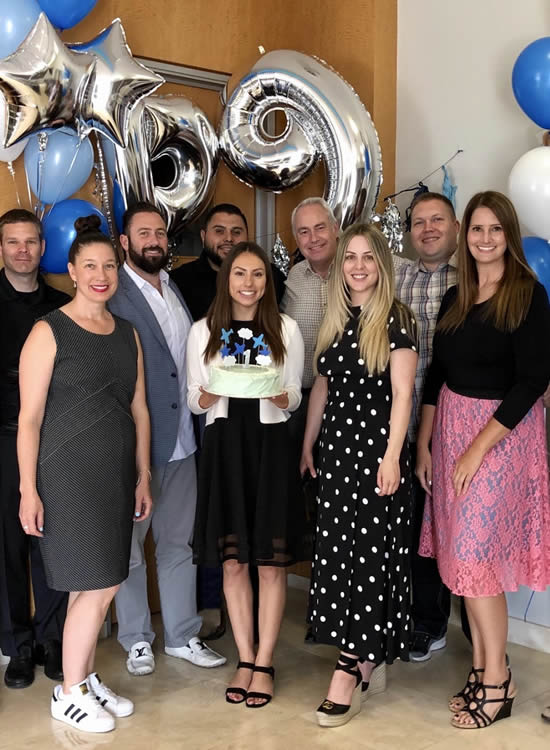 (L-R Back row): Ben Kightly, Pilot; Matt Walter, Co-founder; Joe Pontz, Director of Maintenance; Harvey Underwood, Chief Pilot; Noel Peterson, Pilot; Cassie Terlecki, Maintenance Manager; (Front row): Heather Roberts, Logistics; Amanda Selby, Intern; Hilary Clark, Director of Inflight.
Amongst the Planet 9 external support team special thanks go to Paula Kraft and her DaVinci Inflight Training Institute in Florida; AirCare FACTS, MRO provider Thornton Aircraft Services, Van Nuys - specially Steve Zimmerman and Tim Johnson; the Dassault Falcon AOG Response teams at Teterboro and Paris Le Bourget and FBO partners Castle and Cooke Aviation (Van Nuys); Jet Aviation at Teterboro and Harrods Aviation at London Luton Airports.
"Inside one year we are proud to have built an exemplary inflight team which is setting new standards for service in the private aviation sector. We have cultivated a passionate group of professionals who are 'fully hands on.' Their creativity and attention to detail has resulted in a unique experience for our discerning clients. We don't just aim to please, we aim to be remembered," commented Planet 9's Director of Inflight Services.
Heather Johnson, Planet 9's Logistics Manager also highlighted her happiness in the role. "You know when you're in the right job when you look forward to work," she said.
Co-founders Matt Walter and James Seagrim, Planet 9's Director of Operations, were able to draw on their invaluable previous experience running Burbank, CA, based Advanced Air Management ("AAM"), an operator they built up to a 15 strong long-range business jet fleet, before selling it in 2016. "Drawing on our experiences at AAM, we have continued where we left off, managing the business with full integrity, honesty and transparency. This has been reflected by a tremendous amount of repeat business from a charter broker fraternity who know us well, and it has been extremely pleasing to start where we left off," said Matt.
"Over the next 12 months our goal is to continue growing our team of aviation professionals, continuing growing our relationships with traditional and disruptive companies - and also to further expand our ultra-long range aircraft fleet."
Planet 9 is also open to a third operational base in the US, after Van Nuys and Teterboro should an attractive aircraft management opportunity specifying a new location come along. "We do aim to stay as a specialist in the ultra long-haul market. This is our niche, which sets us apart from other US-based private jet operators," added Matt Walter. "This is the market we know so well."