United States
NetJets celebrates delivery of 100th Cessna Citation Latitude
In June 2016, NetJets Chairman & CEO Adam Johnson received the keys to NetJets' first Cessna Citation Latitude.
Now, three years later, NetJets has taken the 100th delivery of this best-selling aircraft - and waiting on 25 more. The arrival was celebrated at the company's headquarters in Columbus, Ohio, with a traditional water salute.
"We're looking forward to continuing our relationship with Textron Aviation with this milestone delivery" said Adam Johnson. "We are committed to providing our Owners with exceptional service and a seamless travel experience and look forward to continuing to expand our industry-leading fleet."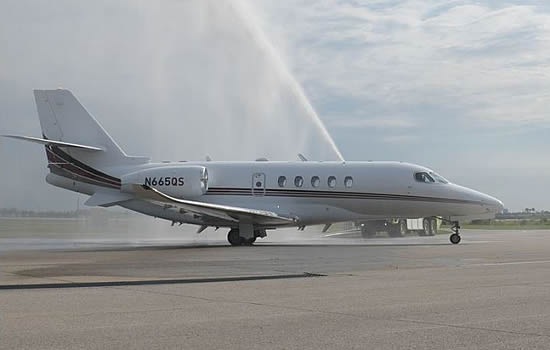 The 100th Latitude received a traditional water salute in Columbus, OH.
Owner demand has ranked the Latitude as the best-selling aircraft in the NetJets portfolio, further establishing the Latitude as Textron Aviation's best-selling midsize jet, outselling its nearest competitor 4:1. This latest delivery will increase NetJets' current fleet of over 250 Cessna aircraft, which includes the Citation Excel/XLS, Citation Sovereign and Citation X, that began with the industry-defining Citation SII.
In addition to the Latitude's class-leading performance capabilities and cabin comfort, NetJets has outfitted the aircraft with a multitude of custom enhancements including an expanded refreshment center with a hot beverage maker and the NetJets 360 Connectivity package that includes Wi-Fi, Text & Talk, and the NetJets In-Flight Entertainment System.
By mid-2020, the company aims to have 125 Latitudes in service alongside further fleet expansion that will accommodate the needs of its Owners.
The Latitude in numbers: quick facts:
150,446 The number of passengers NetJets has flown on Cessna Citation Latitudes alone.

40,437 The number of distinct routes NetJets Latitudes have taken.

3,027 The number of miles traveled on a Citation Latitude's longest flight. From San Francisco, California, to Halifax, Nova Scotia.

2,215 The number of trips around the equator NetJets' Latitudes have taken.