Spain
Drivania and Universal to form new ground transportation joint venture
Private transportation company, Drivania Chauffeurs, has embarked on a joint venture with Universal Weather and Aviation, Inc., to create a new ground transportation company focused on the business aviation industry.
Under the agreement, Universal's ground transportation business - formally under Universal Private Transport - will combine with Drivania's business aviation division, Drivania BizAv.
Drivania BizAv is Drivania's division focused on delivering a superior ground transportation experience for jet operators, air charter brokers, flight support companies and FBO's, with the overall success of their mission in mind.
Universal Private Transport was launched by Universal in 2016 to address the unmet need to better integrate crew and VIP ground transportation into the overall planning and delivery logistics of a mission - reducing 4th party handoffs, reducing scheduling errors with ground transportation providers, and improving response times for changes.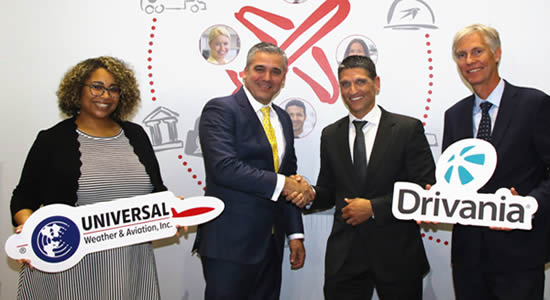 "Both organizations share a common vision to reduce operating risk and enhance business aviation operators' ground transportation experience by reducing handoffs, simplifying logistics through trip integration, and delivering a leading digital experience," said Charlie Mularski, Executive Vice President, International, Universal. "We're combining our two ground transportation networks to create something bigger that gives our customers more options. And it will be seamlessly integrated into Universal's global trip planning and logistics network through Drivania's digital platform; when an operator makes a trip change, the ground transport automatically changes with it."
The combination of Universal's and Drivania Bizav's networks will provide customers an expanded chauffeur and vehicle network - guaranteed by the Drivania Quality Process - in addition to a better digital experience, which includes the Drivania's online booking platform to manage bookings, faster booking response times, and streamlined notifications, all supported by a dedicated team with a private aviation expertise.
"Together, we are working to create the most technologically advanced and reliable business aviation chauffeur network in the world to provide the best user experience for business aviation clients," said Igor Martret, CEO and Owner, Drivania Chauffeurs. "Besides the technological advantages, these clients will be supported by a 24/7 dedicated operations and customer service team placed at Drivania's headquarters in Europe and the United States. We have sized our team to ensure this new project's success."