European business aviation slackening at half-way 2019
There were 87,236 business aviation departures in Europe during June according to WINGX`s latest monthly Business Aviation Monitor published today.
Whilst this was the busiest month of the year so far, the figure was down by 1.7% YOY, in line with the overall fall in activity in H1-19. Trailing 12 month flight activity is flat in Europe.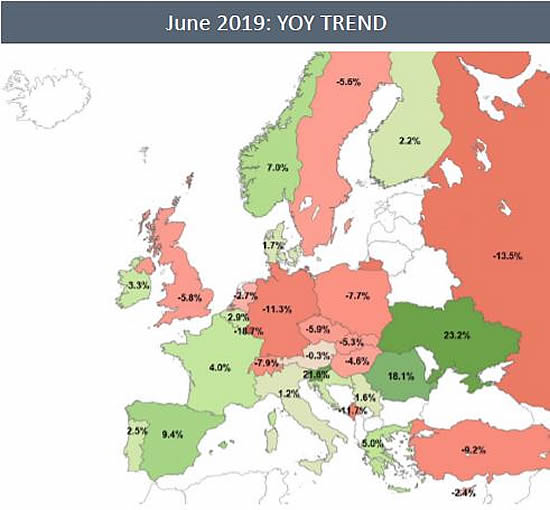 Top market France was up this month with departures gaining 4% YOY. Flights out of the UK fell 6% and slumped 11% from Germany. Flights from Spain were up 9% YOY.
June's decline was most severe in Turbo Prop activity, flights down 6%, -9% in AOC. Business jet flights declined 2%. Charters were flat, but Owner flights slipped. Large Jets are maintaining slight growth over L12M, but Small Jet activity is trending down 2%.
Top market France was up, with departures gaining 4% YOY. Flights out of the UK fell 6%, and slumped 11% from Germany. Flights from Spain were up 9% YOY. So far in 2019, France activity is -1%; the UK, Germany and Switzerland declining between 3% and 5%.
This month, Large Jet flights were up by 3.4%, with Small and Midsize activity down 3.9%. The contrast was most marked in UK flights, Large Jet departures up 3%, Small-Mid down 11%. Large Jet departures from Germany were -12% YOY in June.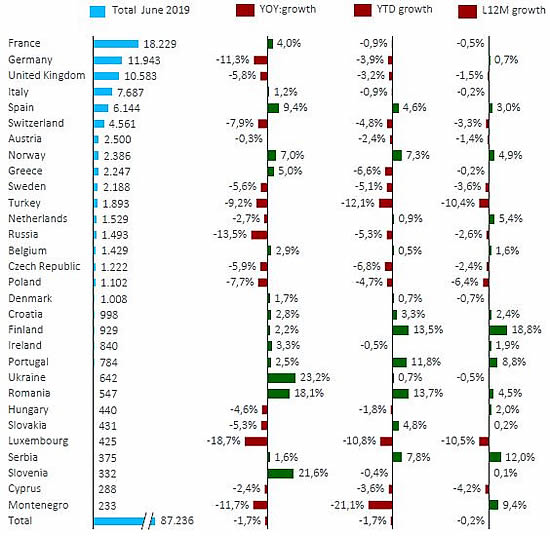 Charter/AOC activity fell sharply in the UK, Germany and Switzerland, but gained 5-10% in Spain, the Netherlands and Greece. Private flights well up in Belgium and Spain, but well back in Germany and Russia. Overall, the Charter market fell 2%, continuing its stagnation since Q3-18.

Although business aviation traffic was down 2% within Europe in June, flights to North America were up 5%, and to Latin America, up by 23% YOY. L12M connections with Africa are up by 3%. The largest declines this month came on top pair, Paris Le Bourget (LFPB) - Geneva (LSGG).
Aircraft
Bombardier activity was well up this month, especially in Heavy Jet. Gulfstream activity was down in most segments. Dassault ULR activity grew 8% YOY. Cessna VLJ flights -17% YOY. Embraer Private flights declined, but Embraer Charters were well up.

Ultra-Long Range, Heavy, Super Mid and Super Light Jet segments had some YOY growth in Jun-19, offset by declines in Bizliner, Midsize, and all Small Jet segments. ULR Charters up 8% YOY this month.

Although the overall YOY trend was negative, most of the 15 busiest business aviation aircraft types had some growth in June, notably Global Express, Diamond Twin-Star and Challenger 350.
Airports

Busiest airport LFPB (Paris Le Bourget) saw 2% decline in Jun-19 activity, and LSGG (Geneva) slumped by 10%, but LFMN (Nice) was up 2%, and EGLF (Farnboough) gained 8%, LFMD (Mandelieu) by 18%, LEMD (Barajas) by 31% YOY. Europe's top 8 airports are all down for the first 6 months of 2019.
Richard Koe, Managing Director of WINGX, comments: "All but one month this year so far have seen declines in flight activity compared to last year, with the first half of 2019 some 2% down on 2018. Clearly this reflects the gloomier macroeconomic picture, with Germany´s economic slowdown and the UK´s Brexit chaos reflected in significant declines in flight activity from both countries. Much of the Charter market is up for grabs in the next 2 months, and suppliers will be hoping that some early summer growth in hotspots like Mykonos, Ibiza and Nice are signs of that demand staying robust through the third quarter of the year."
---
WINGX is a data research and consulting company based in Hamburg, Germany. WINGX analysis provides actionable market intelligence for the business aviation industry. Services include: Market Intelligence Briefings, Customised Research, Strategic Consulting, Market Surveys. WINGX customers range from aircraft operators, OEMs, airlines, maintenance providers, airports, fixed base operators, fuel providers, regulators, legal advisors, leasing companies, banks, investors and private jet users.