NBAA-BACE
Three new bizjets achieve EASA certification ahead of NBAA-BACE
All three aircraft will be showcased on the static at NBAA-BACE, Las Vegas
Both Bombardier and Gulfstream celebrate European Aviation Safety Agency (EASA) certification for new aircraft this week, validating the requirement for operation in the European Union.
Bombardier's two latest additions to the Global family, the Global 5500 and Global 6500 business jets are awarded certification, hard on the heels of Transport Canada certification and entry-into-service on September 30.
Meanwhile, Gulfstream's all-new, award-winning Gulfstream G500 is cleared for European Union registrations and customer deliveries.
All three aircraft will be showcased on the static display at the 2019 National Business Aviation Association Convention & Exhibition (NBAA-BACE) October 22 through 24 in Las Vegas.
Bombardier Global 5500 and 6500
Commenting on the certificationof the Global 5500 and Global 6500, Michel Ouellette, Senior Vice President, Program Management and Engineering, Bombardier Aviation said: "This milestone is the latest accomplishment for our latest Global aircraft, which continue to exceed expectations on every level. Obtaining Type Certification from the European Aviation Safety Agency Certification marks one of the final chapters in our very successful development program, and this achievement is a direct result of the commitment to excellence of the highly-skilled employees who worked on the program and our solid collaboration with our suppliers."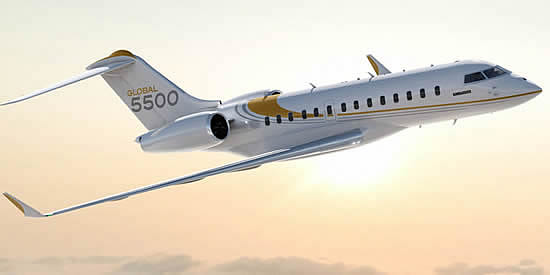 Global 5500
The aircraft went through the rigorous flight testing program, which was completed at Bombardier's world-class test centre in Wichita, Kansas. The Pearl 15 engine, the latest addition to Rolls-Royce's exceptional business aviation engine portfolio, was developed at the Rolls-Royce Centre of Excellence for Business Aviation engines in Dahlewitz, Germany, and was custom-designed with the most innovative technology - including enhanced aerodynamics, blade cooling and advanced engine health monitoring systems - to power the Global 5500 and Global 6500 aircraft. With the purpose-built engines, advanced wing design and built-in systems redundancy and robustness for which Bombardier Global aircraft are renowned, the aircraft offer superior safety and a smooth ride to its passengers.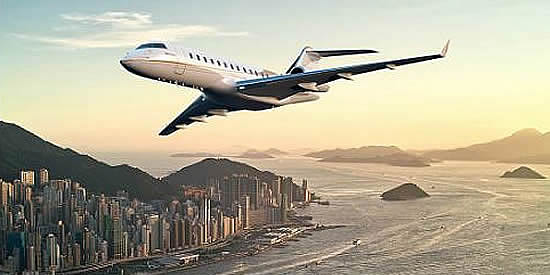 Global 6500
Equipped with the revolutionary Bombardier Vision Flight Deck, the industry's leading cockpit featuring the latest technology, the aircraft offer a comprehensive avionics suite with ergonomics and aesthetics that provide pilots with outstanding comfort and control.
These new aircraft build on the success of the Global 5000 and Global 6000 aircraft by offering 500 and 600 nautical miles of additional range, respectively, coupled with an up to 13-per-cent fuel burn advantage, contributing to highly favorable operating costs versus smaller competing aircraft with less range. The Global 5500 aircraft can connect Sao Paolo and Paris, and Moscow and Los Angeles; the Global 6500 aircraft can connect Hong Kong or Singapore and London, and Toluca and Madrid.
Gulfstream G500
"The G500 has been very well received in Europe," said Mark Burns, president, Gulfstream. "Customers in the region have been drawn to the unprecedented level of technology and innovation in the flight deck and the impact that has on safety and efficiency. In the cabin, they can see the effect technology has on the passenger experience with a rejuvenating environment, advanced ergonomics, award-winning seats, and unmatched comfort."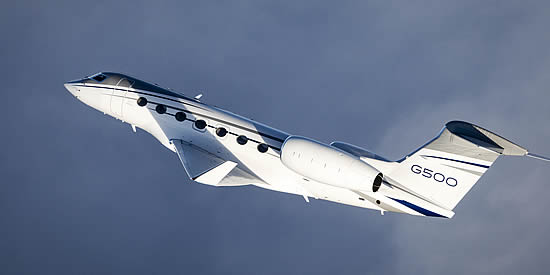 Gulfstream G500
Well before the G500 entered service in September 2018, the aircraft had already proven its maturity and capabilities with a score of city-pair speed records set across the world. That number has since risen to 35 and includes Seville, Spain, to Abu Dhabi in 5 hours and 45 minutes; Geneva to Chicago in 8 hours; Doha, Qatar, to Shannon, Ireland, in just over 7 hours and 30 minutes; and Farnborough, England, to Las Vegas in 10 hours and 20 minutes.
The G500 can travel 4,400 nautical miles/8,149 kilometers at Mach 0.90 and 5,200 nm/9,630 km at Mach 0.85. The seat collection available on the G500 was chosen for an International Yacht & Aviation Award for its advanced ergonomics and aesthetics that can be tailored to customers' design preferences and mission requirements. In addition, the G500 cabin features customized furnishings, a healthy cabin environment and 14 Gulfstream panoramic oval windows.