NBAA-BACE
Bombardier Global 5500 achieves 5,900 nm range
* Challenger 350 sets 10 city-pair speed records in 20.5 hours on US-wide circuit
* New Line Maintenance Stations at Teterboro and Van Nuys
* New Smart Services APU cost-per-flight-hour option for Global 7500
* G6500 makes worldwide debut
Bombardier's latest Global 5500 business jet now boasts an unprecedented range of 5,900 nautical miles at Mach 0.85, connecting more destinations than any other business aircraft in its segment.
With 700 nautical miles more at Mach 0.85 than its closest and smaller competitor, the Global 5500 aircraft can fly nonstop from Western Europe to the West Coast of the United States, connecting more destinations and providing Bombardier's signature smooth ride for exceptional passenger comfort. The additional capability provides more range or the flexibility to complete the same missions with additional payload and more fuel reserves. The 5,900-nautical-mile range will be a baseline feature on the Global 5500 aircraft for all existing and future customers. This enhanced performance will come at no additional cost to customers.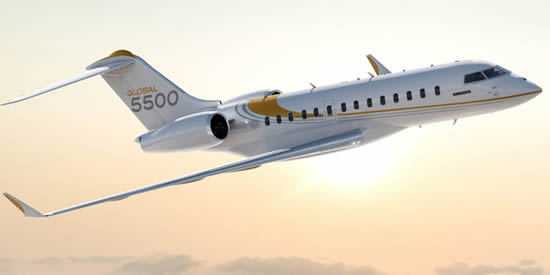 Global 5500
The Pearl 15 engine, the latest addition to Rolls-Royce's exceptional business aviation engine portfolio, was custom-designed with the most innovative technology - including enhanced aerodynamics, blade cooling and advanced engine health monitoring systems - to power the Global 5500 and Global 6500 aircraft. With the purpose-built engines, advanced wing design and built-in systems redundancy and robustness for which Bombardier Global aircraft are renowned, the aircraft offer superior safety to its passengers. On any flight, short or long, the Global 5500 aircraft's advanced wing design optimizes speed, range and control, ensuring an exceptionally smooth ride.
The Global 5500 business jet offers a unique blend of innovation, style and comfort. Meticulously designed and crafted with exquisite finishes and high-end craftsmanship, the Global 5500 aircraft features several state-of-the-art innovations, including the unique Nuage chaise, business aviation's first and only lounge chair that converts into a flat surface for sleeping or banquet-style dining around the conference grouping table. Within the fluid lines of its exceptionally crafted architecture is a marvel of furniture engineering, meticulously designed to maximize comfort in flight.
Challenger 350 sets unprecedented 10 city-pair speed records in 20.5 hours on US-wide circuit
Bombardier's Challenger 350 has demonstrated its undeniable performance capabilities and superior reliability by setting speed records for 10 key American city pairings in 20.5 hours. This impressive feat was completed as the aircraft flew a cross country circuit between 10 of the top US business aviation destinations, setting a city-pair speed record with each mission.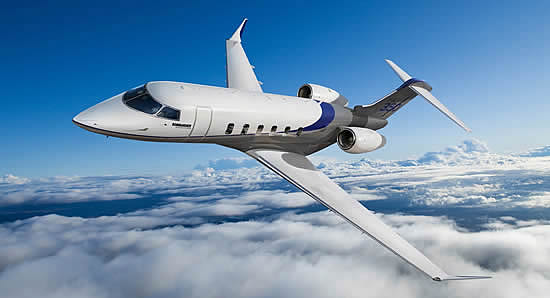 Challenger 350
The Challenger 350 jet departed from Las Vegas at 07:56 AM local time and embarked on a 10-stop, U.S.-wide tour. As part of this mission, the aircraft flew at an average cruising speed of M 0.82 on most of each leg, with stops in Denver, Chicago, Teterboro, Washington, White Plains (New York), West Palm Beach, Houston, Dallas and Los Angeles, before returning to Las Vegas. The aircraft completed its extensive circuit and returned to its departure point at 04:20 AM local time on the following day, after flying over 5,600 nm. This record-setting achievement is a testament to the platform's leading dispatch reliability, a critical productivity factor for corporate flight departments and large fleet operators.
"By connecting 10 of the top US business aviation destinations in 20.5 hours, the Challenger 350 aircraft demonstrated once again its unmatched performance, exceptional reliability and unrivalled value," said David Coleal, President, Bombardier Aviation. "As the most-delivered business jet platform of the last decade, the Challenger 350 jet continues to outperform the competition on all fronts and to provide passengers with the ultimate flight experience."
"The Challenger 350 aircraft handled beautifully throughout our 10 flights, while showcasing its exceptional performance and signature smooth ride on each of our missions," said Dennis Simmons, Senior Captain, Flight Operations. "While this unprecedented record run is an impressive accomplishment, completing a 10-mission tour of the U.S. in less than a day is well within the capabilities of this outstanding aircraft. From the cockpit, the Challenger 350 aircraft lightens the pilots' workload and is a joy to fly, thanks to its advanced equipment and the industry's most extensive set of baseline features."
Customer service footprint enhanced in US with new Line Maintenance Stations at Teterboro and Van Nuys
Bombardier is launching a pair of Line Maintenance Stations at two strategically important locations - Teterboro Airport in New Jersey and Van Nuys Airport in California - further complementing the tip-to-tail maintenance services provided by Bombardier's Service and Support Network in the US and around the globe.
The new Line Maintenance Stations will initially offer unscheduled maintenance services to customers and build toward scheduled maintenance operations in the coming months. Both new locations will offer customers enhanced maintenance capabilities, including the addition of wheel and battery shops. Bombardier trained technicians supporting the new sites are certified for all Learjet, Challenger and Global series business jets, including Bombardier's flagship Global 7500 aircraft.
The introduction of these new Line Maintenance Stations is the latest in a cascade of customer services announcements over the past several months aimed at enhancing the Bombardier customer service footprint in the US and around the world. With major service centre expansions ongoing in both Miami Opa-Locka and Singapore, the development of a new Line Maintenance Station in Dubai with JETEX to enhance service capabilities in the Middle East, and a new agreement with respected Austrian-based interior manufacturer F/LIST for the establishment of an enhanced interior shop at the Biggin Hill Service Centre, Bombardier continues to show its ongoing commitment to providing the most comprehensive onsite, mobile and aircraft-on-ground resolution services in the industry.

Smart Services offerings expanded with introduction of new APU cost-per-flight-hour option for Global 7500
Bombardier has announced the continued expansion of its Smart Services offerings with the introduction of a new APU cost-per-flight-hour add-on option for its flagship Global 7500 aircraft. This new option will provide customers with comprehensive cost coverage for the Safran SPU300 [BA] auxillary power unit, including scheduled and unscheduled maintenance events on or off wing.
The Smart Services Global 7500 APU cost coverage option represents Bombardier's continued commitment to evolve and refine its offerings to meet the needs of customers. Cost coverage includes exchange or repair of APU line replacement components and associated labour for removal and re-installation, off-wing APU repair at Bombardier designated repair centres, removal and re-installation labour for the APU on/off the aircraft, recommended service bulletins and more.
Global 7500
"We are committed to ensuring our customers get the best customer experience possible and this new offering for our flagship Global 7500 business jet provides flexibility and important peace of mind for customers of this incredible aircraft," said Jean-Christophe Gallagher, Vice President and General Manager, Customer Experience, Bombardier Business Aircraft. "We're continually expanding our network and services options to maximize the efficiency of our customers' aircraft operations. We have also added thousands of parts to our network – as well as a two-year parts warranty, comprehensive price-matching policy and one simple monthly payment for the airframe systems and APU under Smart Services for the Global 7500 aircraft. This announcement exemplifies Bombardier's commitment to provide customers with an ouststanding aftermarket service experience."
G6500 makes worldwide debut
Following the dramatic unveiling of the Global 5500 and Global 6500 aircraft in 2018 at the European Business Aviation Convention in Geneva, Bombardier has debuted less, than 18 months later, the all-new Global 6500 aircraft.
The Global 6500 offers a stunning redesigned cabin with exclusive features that are as innovative as they are luxurious. The Global 6500 business jet also debuts the Nuage chaise, business aviation's first and only lounge chair that converts into a flat surface for sleeping or banquet-style dining around the conference grouping table. Within the fluid lines of its exceptionally crafted architecture is a marvel of furniture engineering, meticulously designed to maximize comfort in flight. Bombardier's patented Nuage seat is also exclusive to the new Global aircraft family. With its distinctive technology, the Nuage seat is ideally suited for long-range flights.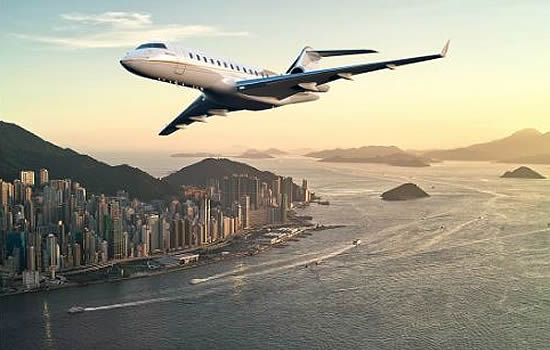 Global 6500
The new aircraft builds on the success of the Global 6000 aircraft by offering 600 nautical miles of additional range, coupled with an up to 13-per-cent fuel burn advantage, contributing to highly favorable operating costs versus smaller competing aircraft with less range. The Global 6500 aircraft can connect New York to Dubai, and Hong Kong to London. The aircraft also boasts superior agility, with the ability to access airports that others can't, such as London City.