NBAA-BACE
Gulfstream introduces all-new G700
Qatar Executive is launch customer for flagship business jet
Flexjet named as first North American fleet customer
Gulfstream introduced its new flagship G700 business jet on the eve of the 2019 National Business Aviation Association Convention & Exhibition in Las Vegas.
During the event, Gulfstream President Mark Burns revealed a full-scale mockup of the G700 and showed a video of the aircraft taxiing under its own power at Gulfstream headquarters in Savannah.
"The Gulfstream G700 takes the very best elements from our most innovative products and unites them with cutting-edge advances to create an all-new, advanced-technology aircraft that redefines safety, comfort and range at speed," said Burns. "This announcement is the biggest news in business aviation history and is the result of the investments General Dynamics made to develop Gulfstream technology for Gulfstream products. Thanks to our nearly 18,000 employees around the world, the G700 is continuing a long Gulfstream tradition: raising the bar for ourselves and the industry."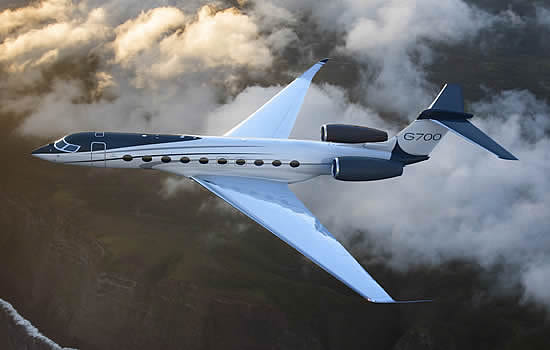 Qatar Executive is launch customer
Qatar Airways has been announced as the launch customer for G700, for its charter service, Qatar Executive.
"Qatar Executive demonstrated their confidence in Gulfstream when they committed as international launch customer for the G500, which is in service with them now alongside the G650ER," said Mark Burns. "We are grateful they have chosen to continue growing their Gulfstream fleet with our new flagship G700 and look forward to their customers traveling in the utmost comfort on the largest business jet in the industry."
Qatar Executive's latest agreement with Gulfstream is for the purchase of 10 G700 aircraft in addition to their recently announced orders of additional all-new Gulfstream G500TM and high-performing G650ER aircraft.
Eleven Gulfstream aircraft are currently in service with Qatar Executive, including six G650ERs and five G500s. The executive charter service is the world's largest commercial operator of the G650ER and the first commercial charter operator of the G500.
"We are excited to be the launch customer of the G700, the largest business jet in the industry, and are looking forward to the aircraft joining our fleet," said His Excellency Mr. Akbar Al Baker, Group CEO of Qatar Airways. "Qatar Executive's customers have extremely high standards, and this aircraft will help us meet their requirements by delivering unrivaled performance that complements our excellence in customer service."
Flexjet is first North American fleet customer
In further news, Gulfstream has named Flexjet as its first North American fleet customer for the new aircraft. The G700 will join Flexjet's growing fleet of Gulfstream aircraft, including the Gulfstream G650ER, Gulfstream G500 and Gulfstream G450.

"The Gulfstream G700, with its speed, range and versatility, will make an exceptional fractional offering," said Flexjet Chairman Kenn Ricci. "We anticipate that it will be ideally suited for those companies that need occasional access to global markets and will be the pinnacle of our Red Label offering. It will be the fifth large-cabin aircraft type in the fleet as we continue our international expansion."
Design Innovation
The all-new cabin on the G700 allows customers to extend their personal and professional lifestyle to their aircraft. With up to five living areas, the G700 offers an extra-large ultragalley with a passenger lounge or crew compartment; a six-place dining or conference room; and a master suite with shower. The Gulfstream Cabin Experience promotes and enhances wellness through 20 Gulfstream panoramic oval windows, the largest in the industry; the industry's lowest cabin altitude, 100 percent fresh air and a whisper-quiet cabin.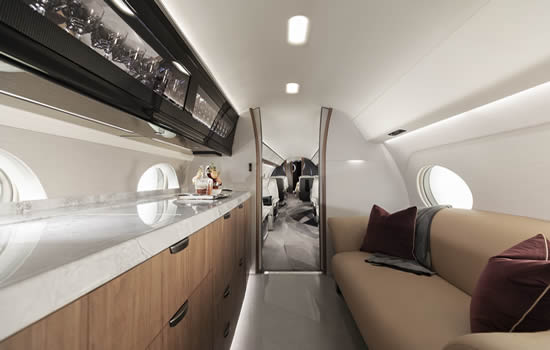 G700 Ultragalley
"Gulfstream has a long tradition of listening to our customers, and the G700 cabin is the evolution of that collaboration," said Burns. "Customers shared how much they value flexibility and comfort in the cabin, all without compromising the speed and range advantages they have come to expect from Gulfstream. The G700 delivers all that and more."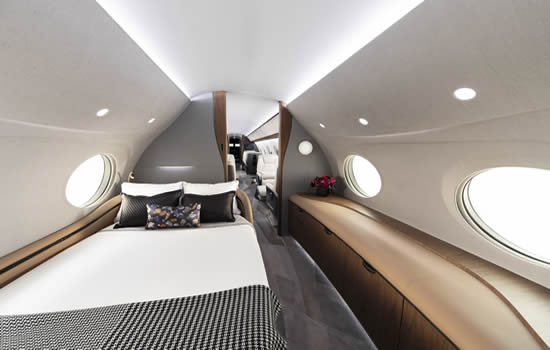 G700 Master Suite
The aircraft also offers a range of cabin amenities that revolutionize the benefits of business-jet travel, including the most advanced circadian lighting system in aviation. The Gulfstream-developed technology recreates sunrise and sunset through thousands of white and amber LEDs, gently coaxing passengers into their new time zone and greatly reducing the physical impact of traveling halfway around the world nonstop.
Safety And Performance
The G700 features the award-winning Symmetry Flight Deck and other new safety advancements. Along with active-control sidesticks and the industry's most extensive use of touch-screen technology, the flight deck also comes standard with another Gulfstream award-winner, the Predictive Landing Performance System. The system gives pilots advanced warning of potential runway excursions so they can adjust approaches or go around. The G700 Symmetry Flight Deck also comes standard with Gulfstream's Enhanced Flight Vision System and Synthetic Vision on dual head-up displays.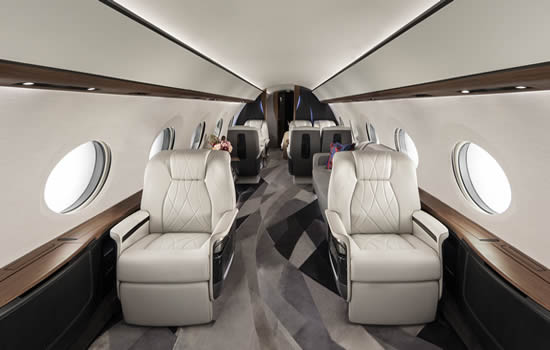 Cabin aft view
All-new, high-thrust Rolls-Royce Pearl 700 engines power the G700 and, along with newly designed Gulfstream winglets, ensure the aircraft achieves high performance capabilities with its larger cabin. The aircraft offers excellent takeoff and landing performance and can operate easily at weight-restricted, short-runway and high-altitude airports.
The ability to fly at faster speeds (Mach 0.90 versus Mach 0.80) gives customers more time, lower annual expenses for maintenance, parts and services, and shorter crew days for safer operations.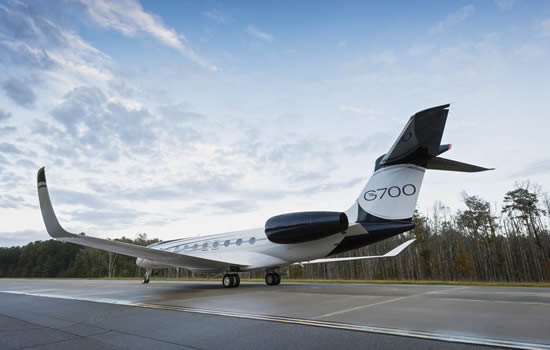 Program Maturity
In preparation for first flight, Gulfstream has already accomplished nearly 14,000 hours of lab testing in its integration- and cabin-test facilities, Systems Integration Bench and Iron Bird. The company has successfully completed ground vibration testing, engine runs, loads calibration and all structural testing required for first flight.
The G700 flight-test fleet will incorporate five traditional test aircraft and one fully outfitted production test aircraft. Manufacturing for all test aircraft is well underway.
Gulfstream anticipates G700 customer deliveries in 2022.