Private jet charter network PrivateFly makes an appearance on ITV's The X Factor this weekend. The company has a starring role in a film featuring members of pop band JLS, to promote one of the show's viewer competitions.

In September, ITV filmed with PrivateFly at Signature's Luton FBO using G-CIEL, a Citation XL, from London Executive Aviation's fleet. The company will also fly the winners to Paris by private jet next year, as part of the overall competition prize package.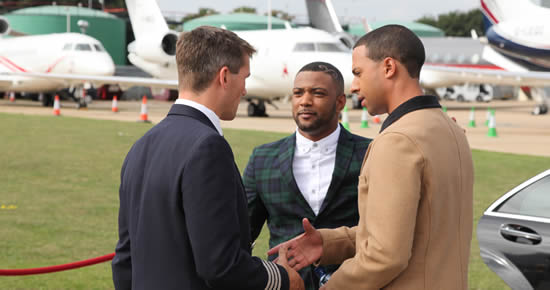 PrivateFly's CEO Adam Twidell with JB Gill and Marvin Humes from JLS
Members of JLS (who found fame after appearing on The X Factor in 2008) are seen boarding the jet in the film, after arriving on the PrivateFly red carpet.
Adam Twidell, PrivateFly's CEO commented: "This was an exciting and fun project for the PrivateFly team to work on with ITV. But on a serious note, at a time when our industry is facing growth and perception challenges, it was also a great opportunity to showcase private aviation to over 9 million viewers.
"Only one lucky winner and five friends will actually win the flight to Paris, but millions of other primetime TV viewers will have a glimpse of what our industry has to offer."