Leading global mobile satellite communications services provider, Inmarsat, is supporting the Think Global Flight mission to highlight the importance of science, technology, engineering and mathematics (STEM) education, and the boundless worldwide opportunities in the aviation and aerospace industries.
Captain Judy Rice and Navigator Fred Nauer will take off in their single-engine, piston-driven Cirrus SR22T from the Sun 'n Fun Air Show in Lakeland, Florida, on 3 April, 2014, to fly to 25 countries around the world and 31 US states. In each city, Captain Judy and her team will talk to students about aviation and aerospace, the importance of STEM education, and the impact green technologies are having on aviation.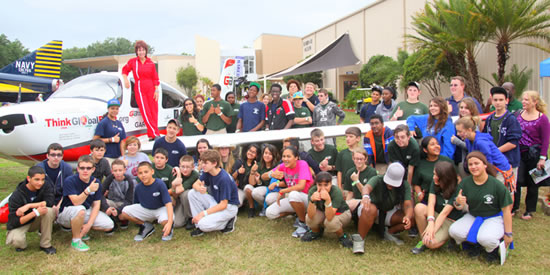 Captain Judy Rice with Think Global Flight students
In parallel, Student Command Centres are being established around the world, involving more than 20,000 students in research, analysing data, and working together to provide the technical support required for the Think Global Flight crew to circumnavigate the globe.
To help facilitate the connections between the air crew and the Student Command Centres, Inmarsat is providing Captain Judy with an IsatPhone Pro and satellite airtime. It will allow Captain Judy to make a daily report to the global participants at the end of each flight leg.
Captain Judy Rice said: "Being able to talk to people, and to transmit flight information, is right at the heart of this project. The ability to communicate with people and share the experience as widely as possible is what is making all the difference to raising the profile of what we're doing.
"We want to inspire people about the potential of aviation and aerospace. To do that we need to be able to talk to them and we are very grateful for Inmarsat's support."
The Inmarsat IsatPhone Pro is a handheld satellite phone that enables calls, including voicemail, SMS and email, and GPS location data.
Miranda Mills, Inmarsat President, Aviation, said: "The future of our industry is in the hands of today's school children. Think Flight Global is a fantastic initiative to raise aviation's profile and we are very pleased to be able to help Captain Judy and her team. I will be following her trip very carefully and I have no doubt it will be a huge success."