Airops Software, part of Gama Aviation, has announced an upgraded version of its software for charter operators, enabling them to provide automatic charter quotes, via its integration with PrivateFly.com.

The new functionality from the business aviation technology supplier now gives Airops' operators the ability to quote automatically for live flight requests received from customer booking platform PrivateFly. The quote is generated within the operator's own quoting software, based on live aircraft availability and location. After being approved, the quote is submitted to PrivateFly and the end customer.

Airops provides scheduling and quoting software for 15 leading charter operators, including London Executive Aviation.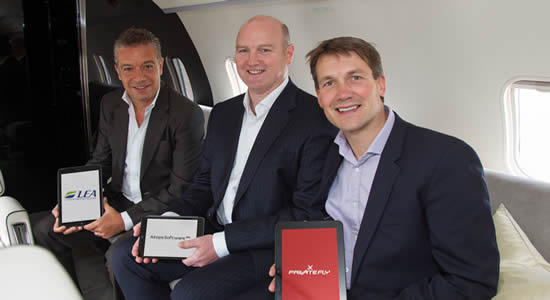 (L to R): George Galanopoulos, MD LEA, Daniel Tee MD Airops and Adam Twidell CEO PrivateFly
Jonathan Tregoiing, General Manager of Airops Software commented: "We are delighted to offer our registered operators this enhanced new business tool. We are always looking at options to add value for our clients and this now streamlines their business offering. The alignment of both technologies makes excellent business sense for all concerned and we look forward to rolling this out."
Adam Twidell, CEO of PrivateFly added: "This enhanced integration with Airops gives their registered aircraft operators a more efficient way to market their availability to our clients. Ultimately this delivers a faster response to the end user, which we know results in more charter bookings. In the charter market, the customer demands price, response speed and customer service. By using Airops, operators can guarantee the speed."
Operators already registered with Airops should contact support@AiropsSoftware.com to switch on automatic quoting.
Airops will be exhibiting on the Gama Aviation Booth 806 at EBACE 2014.