Nextant Aerospace, maker of the Nextant 400XTi - the world's only remanufactured business jet - and the forthcoming Nextant G90XT turboprop, has announced the delivery of its first 400XTi to the UK. It will be the UK's first remanufactured aircraft and will be operated by Norwich-based SaxonAir.
This aircraft is the seventh 400XTi delivered to Europe and the first to the UK. The European 400XTi fleet has proven itself as a strong revenue generator on the European charter market with the majority of the fleet operating in excess of 80-90 hours per month.
The aircraft can fly non-stop from London to any city in Europe faster than any other aircraft in its class.

The spacious cabin features Wi-Fi, an espresso machine and a high tech acoustic dampening blanket that cuts ambient cabin noise by half.
"The 400XTi's range allows our customers direct travel anywhere in Europe for considerably less than any other light jet and without sacrificing performance or comfort," said Chris Mace, SaxonAir Group Commercial Director. "The aircraft allows us to offer the productivity benefits of business aviation to whole new customer segments." SaxonAir, as well as operators, are also the exclusive UK sales representatives for Nextant.
Remanufacturing in the UK is a £2.4bn value industry with the potential of £5.6bn
As European operators focus on value for money, the value proposition of remanufacturing becomes stronger. The UK already recognizes the economic and environmental value of remanufacturing. Estimates suggest that the value of the overall remanufacturing industry in the UK is already £2.4bn, with the potential to increase to £5.6bn and to support thousands of new skilled jobs.
Other benefits include reduced energy requirements, pollutant emissions, material use, and water consumption when compared to the manufacture of new products. The trend it global: in the US remanufacturing is a $50bn industry, growing at 15% per year.
"There has been a lot of talk in Parliament and in the press about the benefits of remanufacturing," continued Mace. "The 400XTi is proof of concept. The 400XTi performs like a new-build aircraft by every meaningful metric but costs a fraction as much to own and operate. That delivers value both to our business and our customer's bottom line."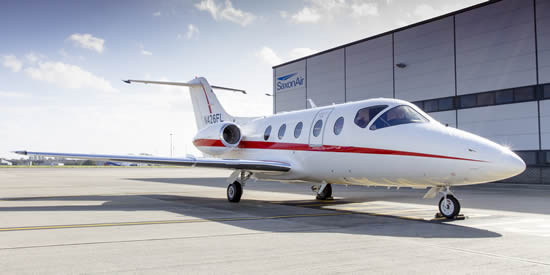 The UK's first remanufactured aircraft and will be operated by Norwich-based SaxonAir.
Nextant is pioneering the concept of remanufacturing for business aviation. The defining feature of the 400XTi is its value proposition. The aircraft performs better than new production aircraft at half the purchase price and with superior operating economics. Nextant serialized factory-production process captures the technological, safety and comfort benefits of modern business aircraft without the hundreds of millions of pounds it takes to develop and certify a clean-sheet design. Those savings translate into a significantly lower purchase price.
"We are very pleased with the international acceptance of the 400XTi," said Nextant President and CEO Sean McGeough. "By the end of this year, we will have delivered 50 aircraft to 10 countries and flown in excess of 50,000 flight hours. As the All-Party Parliamentary Sustainable Resource Group is calling for the increased adoption of remanufacturing in the UK, we hope Nextant can be a good example of how remanufacturing can create real value for operators, customers and the overall economy."