Axtmann Holding AG, parent company of general aviation and air ambulance specialist operator FAI rent-a-jet, has announced the purchase of a majority stake in fellow Nuremberg operator Fly Alpha.
The deal sees Axtmann Holding AG take a 51% stake in the company, with an option to complete a full purchase at a later time. Under the terms of the agreement Fly Alpha's Hawker Beechcraft Premier 1A, Beechcraft King Air 200 and Beechcraft King Air 300 will now be available for charter through FAI rent-a-jet, although they will continue to operate under Fly Alpha's AOC.
The transaction, which took place for an undisclosed amount, sees Fly Alpha retaining its name and brand for which it is well known. It will remain under the management of Marcus Kaiser, Managing Director, and the existing team will maintain their roles.
Siegfried Axtmann, Chairman of FAI rent-a-jet, made the decision to purchase the majority stake having identified a need for aircraft that can fulfill short haul charter requests in the FAI rent-a-jet fleet. Fly Alpha has experience in air ambulance, special cargo, and charter flights so complements the activity of the FAI mid-to long-range aircraft, and has flown 700 hours in the last 12 months, the majority of which were flying customers within Germany, France and Italy.
"We have noticed that there is a lot of opportunity in Europe for the shorter two hour charter flights which we were not tapping into," said Axtmann of the motivation behind the deal, "our fleet is more suited to longer range flights so it made sense to add in smaller aircraft to maximise use of our resources. We identified Fly Alpha as we know them well and have always admired them as an operator. It was a good opportunity for us to work together more closely."
As part of the larger group Fly Alpha now benefits from increased buying power and has access to the full maintenance facility offered by FAI rent-a-jet sister company FAI Technik.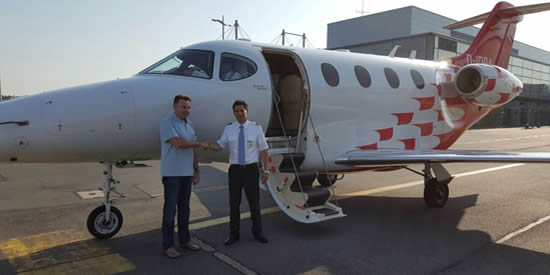 FAI Chairman Siegfried Axtmann (left) with Marcus Kaiser, Managing Director of Fly Alpha
The agreement underlines an increasing trend in Europe for larger operators to join with smaller fleets providing them with better marketing, sales and maintenance platforms so improving market access and profitability. "We anticipate this will be the first of a number of acquisitions we will make as the European sector continues to consolidate," adds Axtmann.
Exit of Greek Shareholder MIG confirmed
In further news, FAI this week confirmed the exit of its Greek Shareholder MIG Aviation Holding Ltd. (a 100 % subsidiary of Marfin Investment Group).
"I can confirm that MIG´s stake in FAI was acquired by MIG´s Co-Shareholder Axtmann Holding AG at a consideration of € 25.2m in cash and now again owns 100 % of FAI," said Siegfried Axtmann in a first statement, after MIG announced the transaction in a public notification to the Athens Stock Exchange.
"Following a seven-year successful cooperation MIG decided to sell its stake in FAI for strategic reasons. In respect to the ongoing consolidation in General Aviation Business, FAI now is in a position to look into strategic partnerships. I am currently looking myself into one or other potential acquisitions in the near future."
FAI is Germanys largest operator in General Aviation by fleet utilization operating more than 12,700 hours of airtime in 2014; and has the second largest fleet in Germany incorporating 21 jet aircraft. The business specialises in air support in hostile areas for the world´s largest NGO, currently operating six aircraft under long term charter contracts and is also one of the world´s largest air ambulance fixed wing operators. Headquartered at Albrecht Dürer Intl. Airport in Nuremberg, Germany, it operates a 9,000 m² carbon neutral FBO. A full time staff of 180 people, including 60 mechanics and engineers are employed at FAI´s in house MRO in addition to further 50 part time physicians and paramedics. FAI operates satellite offices in Dubai and Miami, as well as line stations in Baghdad, Kabul, Entebbe, Abidjan, Bamako and Dakar. FAI anticipates operational revenues of around € 80m in 2015.