Associated Air Center (AAC), StandardAero's Large Transport Category, VIP Aircraft Completions Center in Dallas, Texas, has revealed some of its most exclusive interior design concepts for ACJ350 VVIP completions while the company is actively bidding for new wide-body completion contracts with new customers.
The designs, which are rarely shared publicly by AAC, include three-dimensional renderings of different views of the aircraft's dining room and lounge and master bedroom and bathroom. All of the new designs were curated by AAC's in-house design team, using the finest textiles and finishes.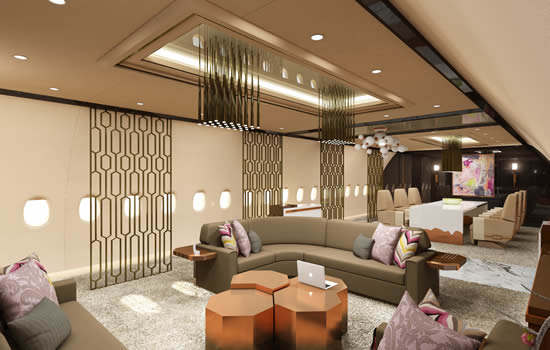 Dining Lounge - forward view
Pioneering the use of glass tiles on previous aircraft, AAC's AJC350 design features an Italian marble mosaic by Ann Sacks and a bespoke Kyle Bunting mural in the master suite. The dining lounge was transformed into a multi-purpose retreat with room to conduct meetings, entertain or unwind. Ornamental lattice work, customer lighting and casework showcase the artistic and innovative approach by AAC's design studio.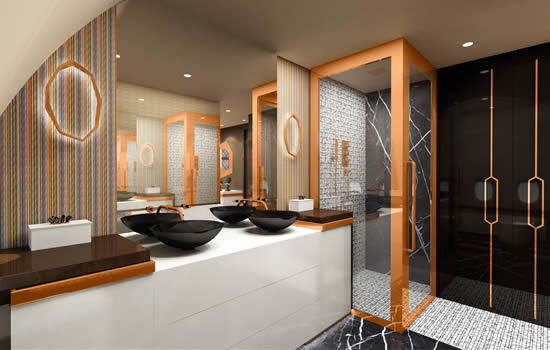 Master bathroom - inboard view
"Our design collaborations, along with our extensive in-house engineering, manufacturing and master craftsmanship - bring together a very powerful combination that gives our customers the most exclusive, sophisticated, safe and high technology interiors in the world," said James Colleary, President of AAC.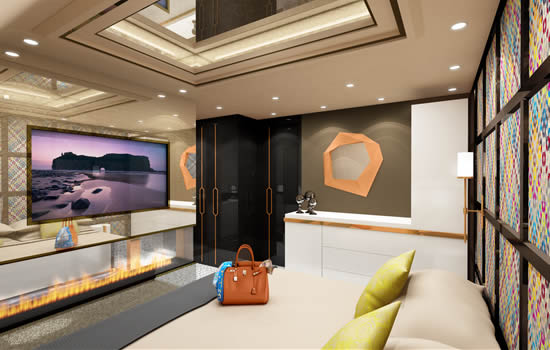 Master bedroom - inboard view
Associated Air Center is a recognized leader in cabin completions and refurbishments for Boeing and Airbus aircraft. Supporting its reputation for excellence in quality and distinction is the company's MRO division which provide on time delivery performance and consistency in customer satisfaction.