A new world class training facility to be established at London Biggin Hill Airport was announced last week during an international lecture marking the 150th anniversary of the Royal Aeronautical Society.
London Biggin Hill Airport, in conjunction with partners London South East Colleges have agreed in principle the terms for a shared ambition to establish a leading aviation college at the airport over the next decade. The announcement was made in the presence of His Royal Highness Prince Michael of Kent, attending as Patron of the British Business & General Aviation Association, the UK's national trade organisation.
To be known as the 'London Aerospace & Technology College' (LATC) the initiative brings together London South East Colleges working in partnership with the London Borough of Bromley and Biggin Hill Airport to create the new state-of-the-art academic facility.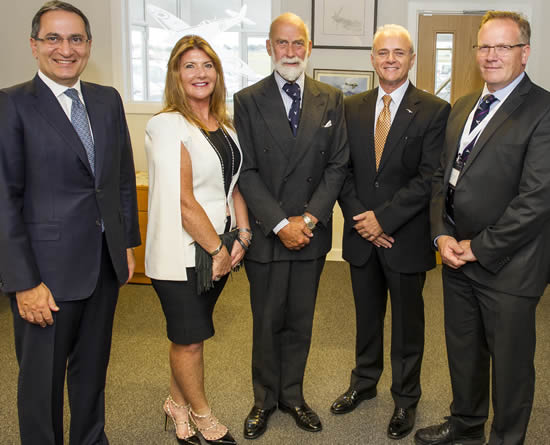 At the RAeS lecture at Biggin Hill Airport where the LATC was announced are (L to R) : Marwan Khalek, Group CEO Gama Aviation and Chairman BBGA; Linda Edwards; His Royal Highness Prince Michael of Kent; Ernest Edwards (lecturer, Aerion Corporation) and Professor Chris Atkins, President, RAeS.
The vision of the creators is an industry standard centre of excellence for education, skills development and training. LATC will provide pathways to accreditation and professional qualifications as required for progressive careers within the industry. Recognising the current global shortage of aero-engineers, the new College will give early attention to the training of mechanical, electronic and service engineers and technicians. This will commence with current entry level offerings already provided by London South East Colleges at their Bromley campus, then progressing to specialised courses co-designed with key industry partners, including business aircraft manufacturers, leading to degree and higher level apprenticeships at the LATC.
When the facilities of the LATC come on stream, they will provide much-needed capacity to an expanding area of industry, also helping to meet the aerospace skills shortage in London. Ensuring that the industry is well served with a pipeline of skilled workers also support the choice of London as a centre for international business and inward investment.