AirMed International has opened a Beechjet 400 base at Cincinnati Municipal Lunken Airport to serve air medical transportation and organ procurement and recovery flights.
The Beechjet will be housed in the Signature Flight Support FBO facility at the airport.
"The new AirMed Cincinnati base allows us to extend our footprint in the Midwest and gives our partners increased efficiencies," said AirMed President Denise Treadwell. "The Beechjet 400 is just one of our state-of-the-art air ambulance jets capable of delivering on AirMed's commitment to provide an uncompromising standard of care while remaining the fastest way to recovery when it is needed most."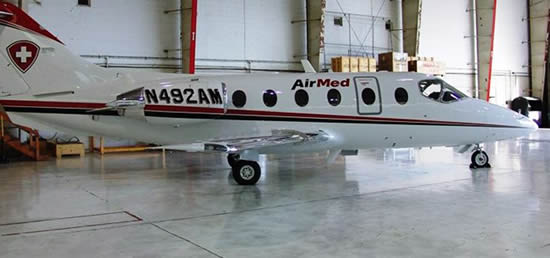 AirMed Beechjet 400
The Cincinnati base is already operational. It provides support throughout the Midwest and has operational capabilities to perform air medical transports across the U.S. The Beechjet 400's medical interior is ideal for short to mid-range transports, with seating capacity of up to five. AirMed International is one of the leading air medical transport companies in the world, with more than 20,000 missions in all 50 states and over 150 countries on six continents. The company owns and operates all aircraft, as well as employing its own dispatch, fight, and medical teams.