GI Aviation, the newest name to enter the private air charter market in the UAE is now open for bookings following the award of its GCAA Air Operator's Certificate in December 2016.
Several demo flights from its Al Bateen Executive Airport, Abu Dhabi home have been performed and on Sunday (22nd January) the privately-owned company made history by landing its first Pilatus PC-12NG at Zero Gravity, Sky Dive Dubai, one of the most famous drop off zones.*
"This is an auspicious occasion for us," commented GI Aviation Marios Belidis, presenting the ultra-versatile Pilatus PC-12NG to industry guests, media and interested parties. "GI Aviation is the first company to operate this aircraft commercially in the region and is pioneering an all new business model for the Gulf. Our goal is to deliver a competitively priced, reliable private charter service that will encourage new clients into this sector and stimulate the market."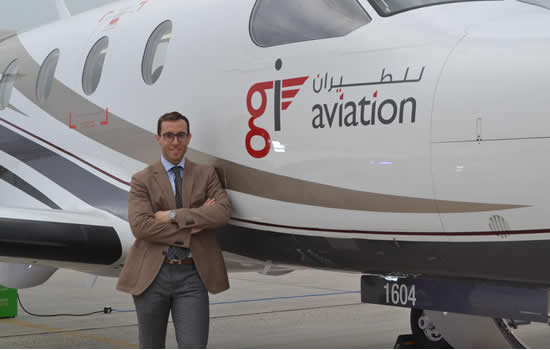 Marios Belidis, General Manager, GI Aviation
"We are duly looking forward to engaging with charter brokers, travel agencies, corporate entities and individuals alike to demonstrate the unique characteristics the Pilatus PC-12NG holds over similar sized jets. We expect demand will initially focus on key city pairs in the region where we will serve Doha, Kuwait, Bahrain, KSA and Sir Bani Yas from Abu Dhabi and Dubai," he added.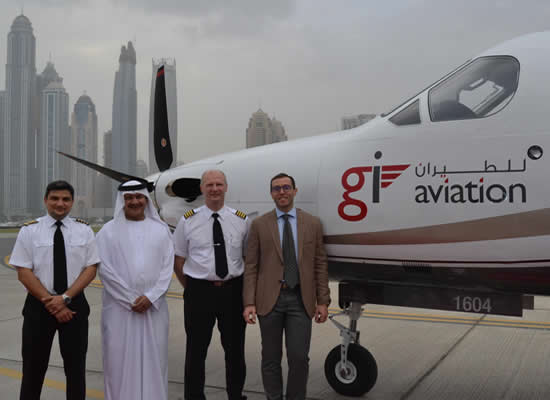 From left: Gabriel Cordova, First Officer; Yousif Al Hammadi, Director of Security Government Relations for GI Aviation; Jukka Vito, Captain and Flight Ops Director; and Marios Belidis, General Manager, GI Aviation; at the launch of their private charter service and their first Pilatus PC-12NG at Sky Dive Dubai, one of the world's most famous drop off zones.
The distinctive Swiss-built high-speed turboprop (520 km/h cruise speed with a pressurized cabin of up to 30'000ft) is well suited for private group charter. Equipped with a stylish BMW DesignWorks interior the aircraft offers the jet experience with a large rear cargo door.
Congratulating GI Aviation on obtaining its AOC, Ali Alnaqbi, MEBAA Chairman, commented that entrepreneurial companies like GI Aviation with their flagship PC-12NG and fresh approach to marketing is going to help widen the customer base for business aviation in a region where larger jets typically dominate. On short flight routes within the Gulf region, the PC-12NG makes commercial sense, he said.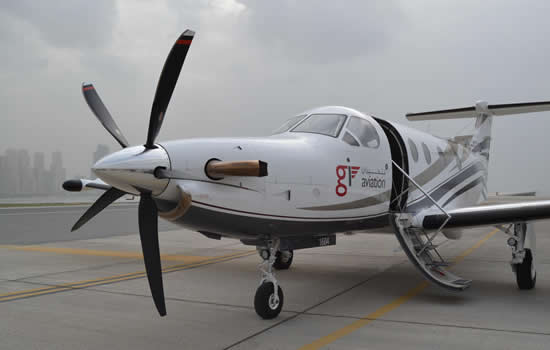 Pilatus PC-12NG
The state of the art PC-12NG continues to grow in popularity globally with nearly 1,400 sold to date. GI Aviation plans to receive their second PC-12NG aircraft in February 2017 with its primary base in Dubai South Airport.
*Sky Dive Dubai's 750m strip is home to the company's PC-6, Twin Otter and NG Viking fleet. GI Aviation's PC-12 is the first commercial aircraft to land there since it accepted fixed wing aircraft in 2011.