The Business Aviation Group announced that its bid was recently accepted for the redevelopment of 16+ acres at Addison Airport, a northern Dallas suburb.
Having completed a preliminary agreement with the Town of Addison, the BA Group is now ready to move forward and identify qualified candidates who possess the expertise, financial strength, and experience necessary to execute a long-term commitment to this first-class facility.
The new development will be in the southeast quadrant of Addison Airport (KADS), adjacent to the notable Addison Circle Park. The desirable location is conveniently accessible to the downtown district and is planned to be developed in two phases. Phase I will consist of 11-acres and is designed to include 56,000-sq. ft. of corporate aircraft hangar space with complimentary office space. A well-appointed 22,500-sq. ft. two-story FBO terminal building will be the focal point of the development and will serve as the operational center of the campus. To handle today's ultra-long range, large cabin business jets, a 5+ acre ramp has been incorporated that will ensure safe and efficient aircraft ramp movements. As initially conceptualized, the FBO terminal also includes a roof-top observation deck and restaurant. An exciting feature of the development will be a free standing indoor auto-spa with lifts and valet car service for discerning clients.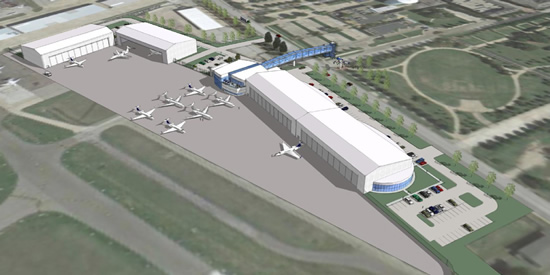 Aerial perspective of the new development.
Phase II of the development will nearly double capacity with 62,500-sq. ft. of additional corporate aircraft storage and office space to accommodate expanding corporate flight departments in the growing Dallas area. "Our vision is to design, develop, and construct a world-class, state-of-the-art business aviation campus that will incorporate the desired goals for the Town of Addison and Addison Airport," commented Iver Retrum, co-founder, and partner of BA Group. "This will be a welcome addition to Addison Airport, and it represents the largest development program ever initiated at the airport. There is a need to support the continuing growth of the large business jet market within the region. This FBO will accommodate the market with its spacious terminal, hangars, and ramp! It will reflect the area's warm hospitality, deep commitment to the community, and provide five-star service for its clients alike," added Retrum.
The BA Group partnered with Denver-based McClurg Century Investments (MCI) for this Addison Airport redevelopment project. MCI has substantial real estate experience and recently completed AeroColorado, a 55,000-sq. ft. first class private hangar and office complex at Centennial Airport in Denver, Colorado. The Addison development represents the first of many projects to come.
The extensive RFQ process with the Town of Addison was recently concluded with several companies competing for the coveted development opportunity at this popular business aviation airport. In the end, the Town of Addison recognized that the BA Group demonstrated the most dynamic and visionary concept for this highly visible and valuable site that incorporated the town's goals and values.