The one-stop shop at RUAG Aviation in Munich optimised the downtime required for a Bombardier Challenger 604 heavy maintenance event, by combining the 192-month MRO inspection with a full cabin refurbishment.
The aircraft, registered in the Middle East, was delivered on time and to complete customer satisfaction.
"Our customer relied on our one-stop shop solutions to fulfil all the requirements of the 192-month inspection, as well as a complete cabin restyling, simultaneously," said Mark-André Mann, Head of Sales Business Jets, RUAG Aviation. "Their decision definitely allowed them to realise significant cost savings. Most importantly, they also saved valuable time. Our Bombardier Challenger 604 technical expertise and our specialists for cabin interior refurbishment combined their efforts, achieving the entirety of the project within just 10 weeks."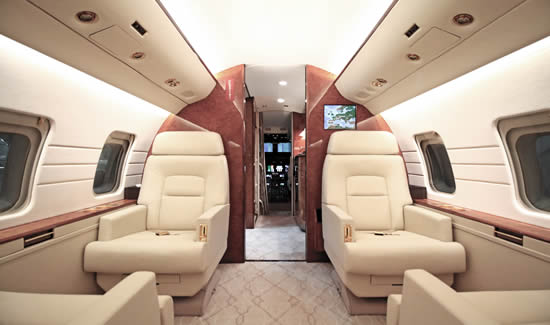 VIP Seating Area.
RUAG Aviation in-house aircraft painting and mechanics shops supported the resolution of all findings related to the heavy maintenance check. The cabin refurbishment included all soft goods, leathers, fabrics, and carpeting. "The owner was looking to effectively update and refresh a dated interior," explains Robin Freigang, Director Cabin Interior Services & Design, RUAG Aviation. "The existing cabin interior was actually in excellent condition. Yet, the more modern color scheme lightened the interior dramatically."
Forward cabin area.
The aircraft was able to resume scheduled operations according to plan. "We have complete confidence in RUAG Aviation's performance on our behalf. They continue to prove reliable and responsive to our needs and provide us with excellent service and support," the Challenger 604 customer commented. "They ensured we enjoyed complete project transparency and ongoing communications throughout the heavy maintenance check. This allowed us to plan our operations with accuracy."