A unique gathering of people and aircraft have witnessed the launch of 'Biggin100' - a programme of celebrations and special events to mark the centenary of London Biggin Hill Airport.
Three very special 100 year old guests took to the air on Tuesday (February 14th) and flew over Biggin in a Spitfire and a Learjet 75 corporate jet.
Ray Roberts, a WW2 pilot had the honour of flying in the Spitfire, whilst local resident Lily Osborne, ex Bletchley Park Signals Intelligence Officer and Trudi Baxter flew in one of the most modern corporate jets, a Learjet 75 provided by bespoke charter airline, Zenith Aviation.
It was on 13th February 1917 that the War Office first established a military camp on the site at Biggin Hill in South London that is the origin of the airport.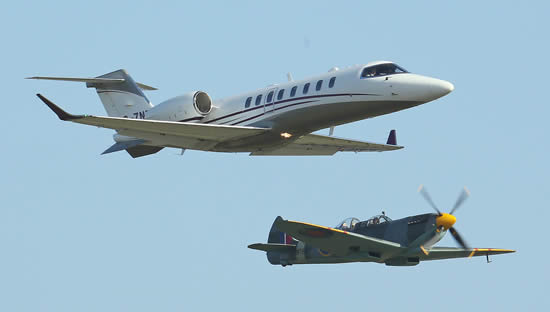 Flypast salute by a Zenith Aviation Learjet 75 in formation with a 2-seat Spitfire of the Biggin Hill Heritage Hangar. Piloted by Peter Kynsey, in the rear cockpit of the Spitfire was 100-year old Ray Roberts from Margate who flew Spitfires with the RAF and ATA during WWII | Photo: Gary Stone.
The Biggin Hill Spitfire flight was an opportunity for guests to remember with pride and gratitude 'Churchill's Few' who flew with skill and courage from RAF Biggin Hill throughout the Battle of Britain in the summer of 1940, supported by dedicated ground crews and operational staff.
The Zenith Aviation Learjet flight marked Biggins current role as a dedicated international gateway airport for Greater London and the City for business, corporate and private aviation.
Will Curtis, London Biggin Hill's Managing Director used the ooccasion to outline a very bright future for the airport and its community and commented, "Biggin 100 will enable us to showcase our continuing commitment as we lay the foundations and investment enabling us to inspire young people to pursue exciting and worthwhile aerospace careers in the future."

Stuart Mulholland, Managing Director of Zenith Aviation said: "We've been based at London Biggin Hill for a number of years now, so it is a privilege to be able to support this event with one of our Learjet 75s.

"Marking the centenary with a special flight carrying some esteemed guests is the perfect way to celebrate the extraordinary heritage of the airport."

Will Curtis, Managing Director (left) and Robert Walters, Business Development Director, London Biggin Hill Airport, share the ceremony of cutting the cake at the launch this week of the airport's centenary year.
Included in the programme for London Biggin Hill's centenary year is confirmation of the creation of the London Aerospace & Technology College, flying and engineering bursaries for young people, a 2-day Festival of Flight on the 19th & 20th of August and the opening to the public of the heritage areas of the airfield during 'Battle of Britain' Week in September.