The European Commission has published the long-awaited amendment to the Air Operations regulation allowing the conduct of commercial air transport operations with single-engined turbine aeroplanes in IMC or at night (CAT SET-IMC) in Europe.
The new regulation, drafted by the European Aviation Safety Agency and announced on March 2nd, takes immediate effect and establishes a framework for CAT SET-IMC operations applicable in 32 European states. It will enable the use of modern aeroplanes with a smaller carbon footprint. It will also allow the development of new business based on the opening of new routes which can be operated safely and efficiently only by single-engined turbine aeroplanes.
This is a significant development since several attempts in the past failed to amass sufficient consensus among EU states. This regulation meets and exceeds the relevant ICAO standards, by establishing a coherent framework, fully and proportionally considering the specificities of those operations.
The publication of these rules opens up new markets and stands to improve connectivity across the continent. Marking the end of a 20-year effort by industry and regulators, Europe is now aligned with the International Civil Aviation Organization's (ICAO) standards for CAT operations.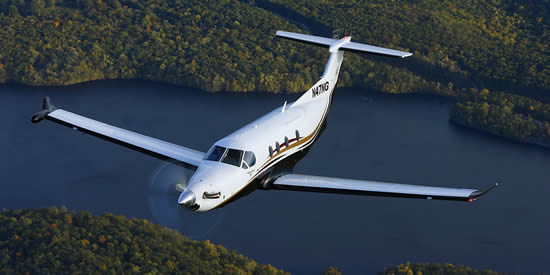 Single-engine turboprops such as the Pilatus PC-12NG (pictured) now have the green light to conduct commercial air transport operations in IMC or at night (CAT SET-IMC) in Europe.
Pete Bunce, President and CEO of the General Aviation Manufacturers Association (GAMA), commented: "The EU's acceptance of CAT operations has been a long-awaited moment for general aviation. We are very pleased to see Europe joining other regions in permitting this important form of transport."
The new regulation is based on rigorous safety analysis, and contains all of the necessary safeguards to facilitate this form of passenger transport. It will greatly facilitate overnight cargo delivery and help provide connectivity to Europe's most remote regions.
"We applaud the leadership shown by the European Aviation Safety Agency (EASA) in guiding this important safety framework forward, along with many dedicated individuals who helped forge this rule over many years. It will be a welcome development for those underserved by commercial routes to date," concluded Bunce.
Work on a regulatory framework for single-engine commercial operations began in the early 1990s. Common around the world, such operations are based on ICAO standards issued in 2005. GAMA, and several of the association's members, participated in a rulemaking group created by EASA in 2012 to help develop the agency's regulatory framework.
To assist in the implementation of the new rules EASA will publish the associated Acceptable Means of Compliance and Guidance Material next week.
SETOps Conference explores exciting opportunities for Operators
In October 2016, BlueSky News, in partnership with business aviation PR specialists Emerald Media, presented the first SETOps Conference & Fly-in at London Oxford Airport.
SETOps 2016 attracted a sell-out audience with speakers and delegates from throughout Europe, the United States and Canada. A number of 'Fly-in' aircraft - including Pilatus, Daher, Beechcraft and Cessna - formed a spectacular Static Display.
SETOps will return in 2017 to evaluate, discuss and consider the exciting opportunities heralded by the new regulation. Details will be announced in coming weeks. To register your interest in attending as a delegate or speaker, click here
In the meantime, presentations, video coverage and images from SETOps 2016 are available at: www.setops.co.uk