ExecuJet is expanding its presence in Sydney, Australia, with the acquisition of an FBO to complement its existing maintenance, flight operations and administration facility.
The recently renovated FBO is located at Sydney's Kingsford-Smith Airport, just 12km from the city centre, and consists of a dedicated VIP guest lounge, passenger amenities and private meeting rooms for guests in transit and Customs & Immigration processing facilities.
The facility will provide passengers with an array of VIP services and amenities with a comfortable place to relax before boarding.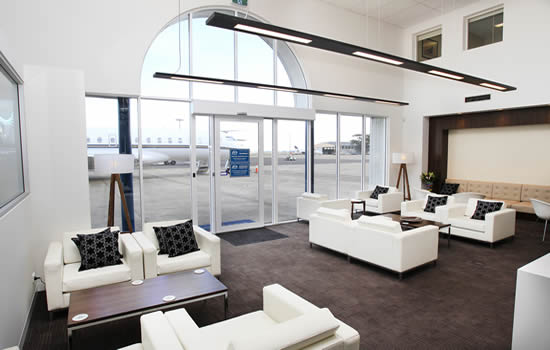 ExecuJet's new Sydney FBO.
Darren McGoldrick, Vice President, Asia Pacific, ExecuJet, says: "We are excited to unveil the Sydney FBO which allows us to welcome more clients to the area and opens up another great opportunity for business aviation in Australia. We have wanted to incorporate an FBO into the facility for some time, in order to meet demand and bring ExecuJet's acclaimed customer service and quality to another major global destination.
Sydney FBO team.
"The FBO will employ 20 staff members including management, ramp coordinators, customer service agents and administration staff. The team is looking forward to being a part of this exciting new chapter in Sydney and the Asia-Pacific region."
ExecuJet is part of the Luxaviation Group and its Sydney FBO joins the Group's international network of now 25 FBO facilities, spanning Africa, Asia-Pacific, the Caribbean, Europe, Latin America and the Middle East.
Ten years of operations in Melbourne
ExecuJet Melbourne - celebrating its tenth anniversary this week - offers MRO, FBO and Aircraft Operations services. The MRO houses a 2,700m2 facility, workshops and stores, supporting Melbourne-based and visiting aircraft.
In 2011, the company expanded its services to include an FBO, providing passengers with VIP services and amenities from a dedicated, purpose-built VIP lounge.
Darren McGoldrick says, "We are delighted to be celebrating this significant landmark here in Melbourne. Our decade of successful growth reflects ExecuJet's commitment to quality, safety and service, which saw our MRO win Bombardier's 'Best Line Maintenance Facility' award in 2014. The credit must go to our staff who have worked tirelessly in providing the excellent service that has attracted customers and ensured they have continued to use ExecuJet. We must also thank our customers who have been extremely loyal to us over the 10 years and enabled us to grow."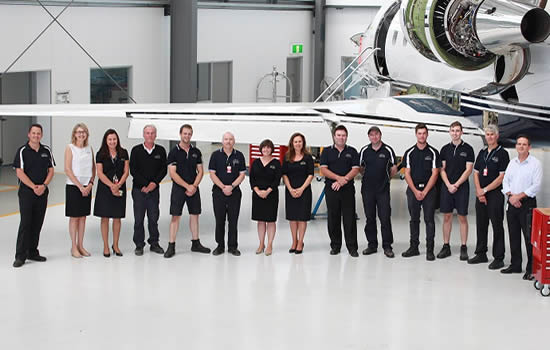 ExecuJet's Melbourne team.
ExecuJet's Melbourne MRO holds an Australian CASA Certificate of Approval, New Zealand CAA approval and is an FAA Part 145 Repair Station, enabling the company to work on a wide range of business jets, turboprops and light aircraft. The facility is also an Authorized Service Centre for Hawker Beechcraft, Gulfstream, Bombardier and Embraer.