Flexjet Ltd welcomed the first aircraft to its dedicated fleet of Nextant 400XTi light jets at Farnborough yesterday (Wednesday 1st March).
The aircraft will be based in Europe for international operations and will be joined by large-cabin aircraft before 2018, enabling Flexjetís U.S. clients to travel seamlessly in the international domain. In addition, the aircraft may be offered through select European charter broker partners.
A second 400XTi is en route from the United States and a third will arrive in approximately two weeks time.
The Nextant 400XTi outperforms all other light jets by nearly every measure, with a 2,003 nautical mile range and a high cruising speed of 460 knots per hour. The Nextant 400XTi also boasts significantly reduced carbon emissions compared to other light jets and noise compliance that exceeds Stage IV requirements. These features facilitate this being the perfect aircraft for Flexjet Owners with European travel needs.
Each Flexjet Ltd Nextant 400XTi is designed with a custom cabin interior and adorned with the striking company paint scheme. In creating the stylish cabin interiors, Flexjet used premium leathers, the finest hardwoods and laminates, custom wool carpeting and luxurious fabrics. The cabinís flat floor - due to the squared-oval cabin cross section - offers generous headroom and shoulder space.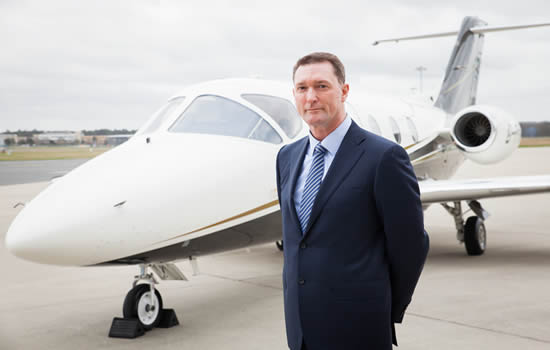 Flexjet Ltd CEO, Ray Jones.
The aircraft configuration features a three-seat divan and a four-place club seat arrangement with 32 inches of legroom - the most legroom in the club seating area of any light jet. The 400XTi features an enclosed aft lavatory and, a full refreshment centre. And yet, this incomparable level of cabin size, luxury and service still comes at trip pricing which, due to the 400XTiís speed and cruise altitude, compares favorably to the much smaller, slower personal microjets such as the Citation Mustang.
Kenn Ricci, Flexjet Ltd Chairman, commented, ďFlexjet Ltdís global operations will provide the sophisticated European marketplace and beyond with unmatched flexibility, choice, safety standards and service. In addition, our North American base of clients will be able to travel internationally without ever having to leave the Flexjet family. The introduction of this dedicated European fleet realises our vision to offer a product that simply does not exist. In addition, Flexjetís brand promise of impeccable style and unmatched service meets what the international community so keenly wants. Moreover, Flexjet Ltd is looking forward to further accelerated expansion of its fleet and continues to provide highly bespoke aircraft management solutions for both commercially operated and Part-NCC private operations.Ē
Ray Jones, CEO of Flexjet Ltd, added, ďThe arrival of the first of our dedicated fleet of aircraft in Europe, delivers on the promises we made to the European community at EBACE in May of 2016. We know, from our client commentary, that this product offering has been eagerly awaited. This popular aircraft will enhance our ability to provide for our clients and our aviation partners a new high benchmark for business aircraft solutions.Ē