Avfuel Corporation welcomes Temple Airport (Draughon-Miller Central Texas Regional Airport) to its network of 650+ branded fueling locations. With the partnership, Temple Airport now offers the Network's popular loyalty program: AVTRIP.
"The addition of Temple Airport to our branded fueling locations adds great value to the Avfuel Network," said Mark Haynes, Avfuel's vice president of sales west. "It's an upstanding location that's dedicated to serving the vast array of aviation segments our industry has to offer with friendly service, and just the kind of location our loyal flight departments are looking for in the heart of Texas."
Known for its staff's can-do attitude, clear blue skies and soft landings, the airport is conveniently situated in central Texas near Austin, Waco, Dallas and Fort Hood. Its location draws in regular traffic for big business, medivac and military aircraft. As a general aviation facility, the airport is precious to the community, supporting the stability of central Texas' economy and future.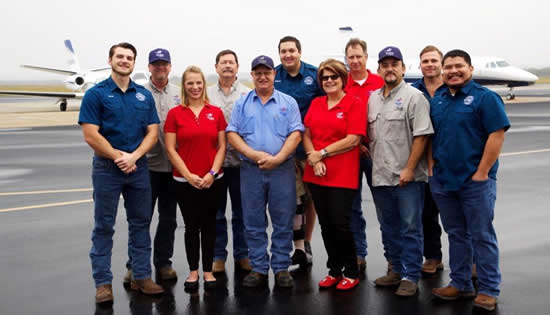 The Temple Airport team.
Guests to the airport enjoy the benefits of large-city type amenities, without the large-city hassle or congestion. Temple Airport features well-maintained runways, taxiway facilities, aircraft rescue and firefighting facilities, a general aviation terminal, ample free parking, aircraft parking aprons, T-hangars and land available for development. In addition to full fuel services, the airport offers flight training, aircraft rental, charter services, aircraft maintenance and avionics.
Temple Airport was honored as State Airport of the Year, while Manager Sharon Rostovich was awarded State Airport Manager of the Year. In addition, Temple Airport was the only GA airport to receive the SW Region FAA Airport Safety Award and one of only 27 airports to receive the National Customer Service Award. With a 99 percent rating on quality control inspection (the highest rating in Texas) and a staff of 14 people with an average of 20 years of airport experience, customers can be assured their aircraft and their needs are in the most adept hands.
Temple Airport operates from 05:00 to 22:00 seven days a week.