PayNode, the world's first payment platform created specifically for business aviation, is now being fully integrated across all Avinode Group systems, making it even easier for charter brokers and operators to work efficiently, take on more business and be paid promptly.
Users of the Avinode TripManager broker sales management system and SchedAero flight operations system will now be able to create PayNode payment requests automatically in just a few clicks within their current workflow, ready for emailing to the customer. This integration eliminates wasteful administrative time and allows brokers and operators to sharpen their focus on customer service and business growth.
The development is the latest step in the Avinode Group's commitment to providing a fully integrated, end-to-end digital platform for business aviation, with the Avinode Marketplace, the world's largest online market for buying and selling air charter, at its heart.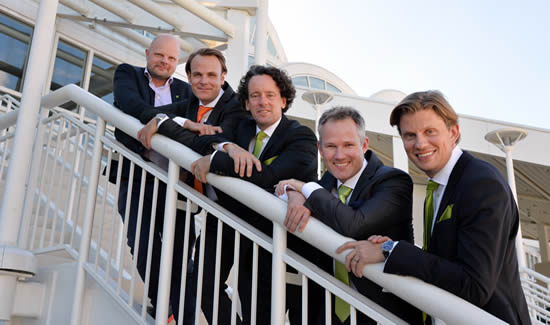 The Avinode & PayNode executive team. (L to R): Johan Sjöberg Business Manager, SchedAero; Magnus Henriksson Global Business Director, PayNode; Oliver King Acting CEO, Avinode Group; Niklas Berg Co-Founder, Avinode Group; Per Marthinsson Co-Founder & Executive Vice President, Avinode Americas.
Magnus Henriksson, Global Business Director, PayNode, says: "We've had a highly positive response from brokers and operators to the launch of PayNode. The solution has been designed to target key pain points in their businesses: the need to work faster, to move large sums of money internationally at short notice and to get paid swiftly. For example, PayNode is the only platform that ensures brokers and operators receive payment within 24 hours following a flight, which is a huge cash flow benefit.
"Since Avinode Group was founded 15 years ago, we've been on a mission to bring air charter to the forefront of the digital age, developing best-in-class technology to make business easier for our members," Henriksson continues. "The integration of PayNode with Avinode TripManager and SchedAero ensures funds can flow through the links in the payment chain and into our customers' bank accounts more effortlessly than ever."
Launched at NBAA 2016, PayNode is disrupting the multi-billion-dollar business aviation payments market. It replaces a highly manual, time-intensive payment process with a simple and secure online system specifically designed to move large sums of money cross-border, regardless of time or geographic location. Already bringing improved speed, ease and security to American Express card payments, PayNode will be expanded in 2017 to also transform the processing of bank wire transactions.