TAG Aviation Europe has received the Air Operators Certificate (AOC) from the Transport Malta - Civil Aviation Directorate (TMCA).

The granting of the Maltese AOC is the culmination of several months of dedicated planning and reaffirms TAG's commitment to continue its expansion into new EU territories and provide its customers with an attractive choice of aircraft commercial registration.

TAG has already sourced its first aircraft, a Challenger CL-605, which has started flight operations last week, with more aircraft expected to be added later this year.

"Receiving the Maltese AOC marks a significant milestone in strengthening TAG's foundations to pursue the growth of its managed fleet of corporate jets. It further enhances our ability to start operations within a very short period of time and to meet our commitment to provide the highest level of responsiveness and customer service standards", said Daniel Christe, CEO, TAG Aviation Europe.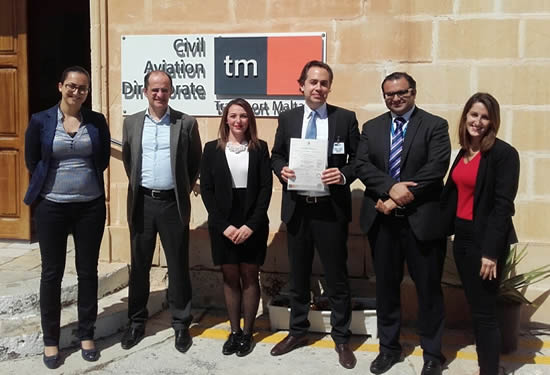 (L to R): Kyra Pollacco, TM CDA-Airworthiness Inspector; Carl Tabone, TM-CDA Head of Airworthiness & Aircraft Registration; Stephanie Vella-Gera, TAG Aviation Malta Safety and Compliance Manager; Francois Stock, TAG Aviation Malta Accountable Manager; Clint Taliana, TM-CDA Senior Flight Operations Inspecting Officer; Ruth Stafrace, TM CDA Inspecting Officer.
"We look forward to a thriving cooperation with the Transport Malta - Civil Aviation Directorate (TMCA) to help us in surpassing our customers' expectations and to contributing towards the development of business aviation within this commercially abundant Commonwealth state."
Praising Malta's warm welcome and the expert guidance that TAG has received from TMCA, Francois Stock, TAG Aviation's Accountable Manager of the Maltese AOC added: "TAG has been highly impressed with the proficiency, service quality and professionalism of both the administration and business partners during the whole certification process. We timely receive this AOC from TMCA and are proud to become a member of the Maltese Aviation Community."