The first Airbus A319neo performed its maiden flight last Friday (31st March).
The smallest member of the A320neo Family, powered by CFM International LEAP-1A engines, took off from Hamburg and landed in Toulouse after a 5 hour flight.
It was piloted by Experimental test pilots Michel Gagneux and Eckard Hausser, assisted in the cockpit by Test-Flight Engineer Jean Michel Pin. Two flight test engineers, Sylvie Loisel-Labaste and David O'nions, directed the flight from the aircraft's Test Engineer station.
The crew assessed the general handling of the aircraft and to checked main systems. The A319neo - registration D-AVWA - will be based in Toulouse in order to complete its flight test programme.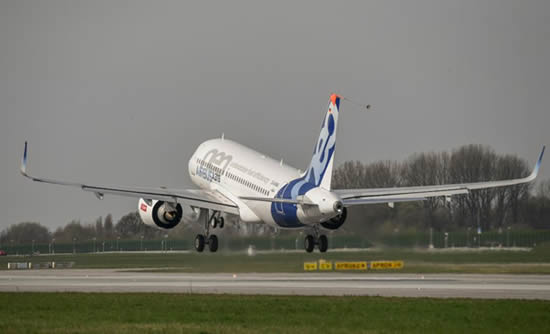 The A319neo takes to the skies for the first time from Hamburg.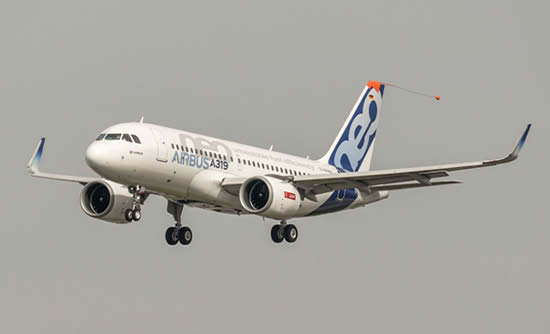 The A320neo Family is the world's best-selling single aisle product line with over 5,000 orders received from over 90 customers, capturing almost 60 percent share of the market. The A320neo Family incorporates latest technologies including new generation engines and Sharklet wing tip devices, which together deliver more than 15 percent in fuel savings from day one and 20 percent by 2020.
Thanks to their widest cabin, all members of the A320neo Family offer unmatched comfort in all classes and Airbus' 18" wide seats in economy as standard.
With one aircraft in three sizes ( A319neo, A320neo & A321neo), the A320neo Family, seating from 100 to 240 passengers, seamlessly covers the entire single-aisle segment from low to high-density domestic to longer range routes. The A319neo is the smallest member of the A320neo Family; it offers its operators superior short field performance in hot and high conditions. It can accommodate up to 160 passengers without compromise on the comfort.
ACJ320neo Family currently has a total of 8 orders - 2 ACJ319neo and 6 ACJ320neo. First delivery dates of the corporate jet versions are: ACJ320neo in Q4 2018; ACJ319neo in Q2 2019.