Satcom Direct (SD), the business aviation connectivity solutions provider, is striding into its twentieth year, kicking-off its celebrations at ABACE.
Responding to the diversifying connectivity needs of the business aviation sector, SD has accomplished several major milestones since ABACE 2016, including its first foray into the flight operations management space.
In May 2016, it launched SD Pro, the aviation software platform that helps flight departments keep real-time synchronization with the aircraft through a single dashboard that monitors connectivity, flight scheduling and tracking, as well as maintenance tracking.
As one of the first companies to recognize the time and budgetary benefits of synching aircraft and flight departments, SD also partnered with Universal Weather and Aviation, Inc. to incorporate trip planning and trip support through SD Pro. Further infrastructure investment throughout the year has also positioned SD as the only connectivity supplier to offer a complete end-to-end military grade cybersecurity network for business aviation through its Private Network services.
Three major acquisitions in 2016 added further value for SD's clients. In February SD acquired COMSAT, Inc., bringing the ownership of two Satellite Earth Stations, and new infrastructure capabilities to the business. AircraftLogs.com was acquired in August, adding web-based aircraft flight scheduling and tax reporting features into SD Pro. In November, the acquisition of hardware manufacturer TrueNorth Avionics expanded the company's avionics and connectivity products portfolio, enabling SD to offer customers a nose to tail solution for all information, connectivity and entertainment needs.
To round off the year, SD launched its second certified training course, aeroCNCT, at this year's ABACE. Designed for crewmembers who need to become more familiar with all aspects of cabin connectivity, this is the aviation industry's first crewmember connectivity certification.
"Asia was one of our first international offices; the market has supported us, and grown with us, so we are delighted to begin our twentieth anniversary celebrations at the Shanghai event. As our product range diversifies, we are well placed to offer our clients an even greater range of products to improve and enhance their fight experience," said Nathan Andrews, Regional Director, Asia Pacific.
From its groundbreaking beginnings when SD launched the patented Global One Number technology it has grown into a global business supporting business aviation, heads of state, government and military aircraft.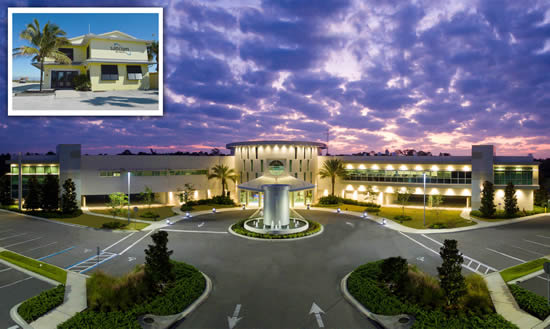 SD started in a beach house (inset) and 20 years later is in its state-of-the-art HQ.
Founded in 1997 by company chairman and CEO, Jim Jensen, and originally based in the Satcom Direct "beach house" with a team of six employees offering one product, the business now employs a team of nearly 400 worldwide, runs 16 offices, and offers a wide range of connectivity solutions. The company is now headquartered in a 60,000-square foot purpose-built, state-of-the-art, building in Melbourne, Florida. The campus is also home to Terracom Direct, the company's secure data storage centre that supports the SD Private Network.
"From the seed of an idea we have pioneered inflight connectivity for the international business aviation community. Thanks to my solid management team, who are bursting with talent and innovative ideas, we continue to go from strength to strength," says Jensen about SD. "Since 1997, connectivity has become an integral part of the business aviation sector. It is no longer just about connecting a phone to a phone; to succeed you must be innovative, create strong partner relationships and understand the needs of the user. Passengers need reliable high- peed data access, crew need connected cabin management systems, and the flight deck must maximize technology to be synchronized with flight departments. The needs of the market drive our team to continually create new products which we believe will improve the aviator and passenger experience," he concludes.
Launch of industry-first Cabin Crew Connectivity Certification
In further news from ABACE this week, Satcom Direct has formally launched aeroCNCT, the industry's first Crewmember Network and Connectivity Training certificate program.
The aeroCNCT, or "aero connect", course has been created to support industry professionals that work with, or are responsible for, connectivity during flight.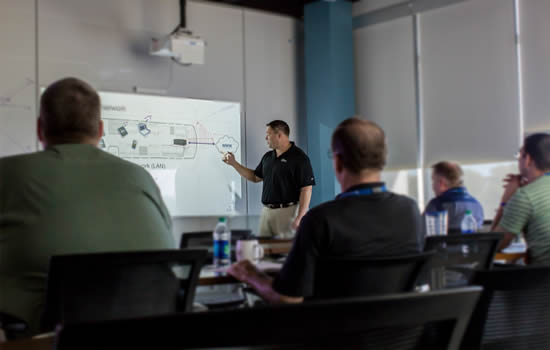 The aeroCNCT certified connectivity training launched at ABACE2017.
AeroCNCT provides flight departments and crew with knowledge and understanding of onboard connectivity, how handheld devices affect flight operations, and how to troubleshoot basic cabin networking issues. Developed with the input of experienced crewmembers, the course applies realworld experience and perspective, and places emphasis on key cabin connectivity areas such as: internet connection basics, network familiarization, data management, flight operations preparation, and passenger device and application troubleshooting.
"Staying connected has become an essential part of any flight as principals and customers expect systems to work. AeroCNCT is designed to demystify the network and ensure crew have the confidence and familiarization to fix basic technical issues inflight," says Mark Mata, director of training, SD. "It will make their lives easier, while providing a better connectivity experience for the passengers onboard."
Two days of dynamic classroom training, provided by qualified SD trainers, includes hands-on experience and exam preparation. This is supplemented by online access to study material, available via Choice Platform, which can be conveniently undertaken at the student's individual pace to balance busy flight schedules. On-site training, also provided by qualified SD trainers, is available for operators and corporate flight departments.
Candidates who successfully complete the exam, developed with CompTIA to maintain industry standards, are awarded a professional credential. The proctored exam can be completed at Pearson Vue testing centers worldwide, or at Satcom Direct's world headquarters in Melbourne, Florida. The aeroCNCT certification is valid for three years, and can be renewed via online or classroom training, similar to other cabin crew certifications from SD and it's training partners.
AeroIT: More than 200 certifications awarded as SD adds courseware updates
The new aeroCNCT course complements SD's existing aeroIT certification. Created for IT, management and aviation networking professionals, aeroIT provides essential information about airborne connectivity systems and more than 200 students have now achieved the professional accreditation since its launch in May 2015.
To maintain currency, SD has added a series of updates to the aeroIT certification course. The new aeroIT eBook allows students to access and review material digitally, and incorporates a comprehensive search function. Online access to SD Learn-To videos, hands-on lab experience, and additional test preparation via online assessment has also been added. Candidates can also choose to take the final exam at the SD training facility in Melbourne, or at Pearson Vue testing centers worldwide.