ExecuJet, part of the Luxaviation Group, has signed a service level agreement with HK Bellawings. Jet Limited, a Hong Kong based aircraft management company, to provide aircraft maintenance services for its managed aircraft fleet.
Mr. Ivan Lim, General Manager of ExecuJet Malaysia, signed the agreement with Mr. Jack Li, Vice President of HK Bellawings. Jet Limited last week during the Asian Business Aviation Conference and Exhibition (ABACE).
"The signing of this service level agreement is testament to ExecuJet's expertise and capability in the market," said Mr. Lim. "It represents the trust and the confidence our clients have in our brand and the people behind our brand. We are certainly excited with this partnership with HK Bellawings and we look forward to supporting every aspect of the company's aircraft maintenance needs."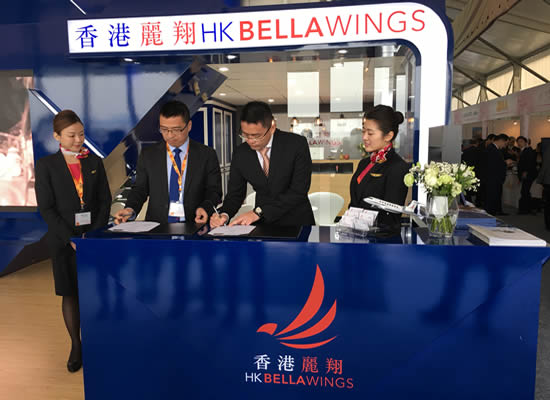 Jack Li, Vice President, HK Bellawings (left) and Ivan Lim, General Manager, ExecuJet Malaysia.
Mr Li added, "We are pleased to have partnered with ExecuJet, an esteemed organization in business aviation. As both companies share the same beliefs in excellence, we are confident this cooperation will go from strength to strength and further enhance HK Bellawings' operational efficiency and flexibility across the Asia-Pacific region."
ExecuJet Malaysia is based out of Subang Airport, Kuala Lumpur, operating from a newly refurbished 63,000 sq ft hangar. ExecuJet Malaysia is approved by EASA and DCA Malaysia, along with various national airworthiness authorities for line and base maintenance. ExecuJet Malaysia is certified to provide maintenance services to a wide range of business jets from the Bombardier and Gulfstream product lines. ExecuJet Malaysia also provides AOG support services for aircraft in the Asia-Pacific region.