Jet Aviation's MRO facilities in Asia have gained approvals from the civil aviation authorities in Singapore (CAAS), Malaysia (DCA) and Taiwan (CAA) to provide line and base maintenance for Gulfstream G650, Boeing B737 and Airbus ACJ A319/20/21 aircraft registered in Singapore, as well as Malaysia-registered Gulfstream G650 and Taiwan-registered Gulfstream G550/G650 aircraft.
Earlier this year, the company received EASA approval to offer line maintenance support to Gulfstream G650 business jets in Hong Kong. Jet Aviation is currently seeking EASA and CAAC approvals for line and base maintenance for Gulfstream G650, Boeing 737 and Airbus 319/320/321 aircraft in the next 90 days.
"There is a lot of business aviation activity in Asia, particularly by large, long-range aircraft, and extending these approvals to all of our sites in Asia will greatly benefit our customers in the region," said John Riggir, vice president and general manager of Jet Aviation's MRO and FBO facility in Singapore.

"Our maintenance facility in Singapore will remain our major Asia Pacific Service Hub, supporting heavy maintenance and large refurbishment projects, while our facilities in Hong Kong and soon in Macau will provide immediate access to necessary maintenance services near the region's largest market in China."
Jet Aviation's new MRO facility in Macau is set to go operational later this year, pending government approval. The company is also building a new 3rd hangar at Seletar Aerospace Park that will be completed in November this year. These two hangars will bring much needed business aviation aircraft capacity to the region.
Three business jets added to aircraft management fleet
In further news, Jet Aviation has signed three new aircraft management agreements in Asia in the past six months.
These include a Global 6000 and two Gulfstream G650, all of which are based in Hong Kong. The company currently manages 33 aircraft in Asia. Jet Aviation's aircraft management in Asia now stands at 33 aircraft, including seven Gulfstream G650, nine G550, six G450 and two G200; one Bombardier Global Express, three Global 6000, two Global 5000 and a Challenger 605; a Dassault Falcon 900LX and a Falcon 7x.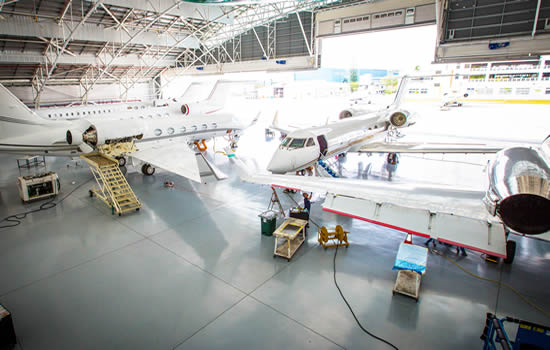 Jet Aviation Singapore
"We are steadily growing our aircraft management fleet in Asia as business jets are regularly being exchanged and added to the market," says Daniel Helfenstein, director of key accounts and deputy managing director of the company's aircraft management operation in Hong Kong.