AsBAA, the Asian region's non-for-profit representative trade body for business aviation has announced that, further to its ongoing cooperation with Hong Kong Civil Aviation Department (HKCAD) on the noise profiling of business jets, the Gulfstream 650 has been added to the exempted aircraft list for night slots, effective from 28th April.
The change, which marks the first Ultra Long Range jet to leverage night slot departures at HKIA is significant because it recognises that the G650 noise levels are below Committee on Aviation Environmental Protection (CAEP) Stage 4, which is notably quieter than the majority of commercial airlines operated at the airport.
"We appreciate AsBAA's efforts to advocate for the business aviation industry, thereby ensuring operators are able to fully leverage all of business aviation's strategic benefits, including the flexibility to fly when and where operators want, said Heidi Fedak, Director, Corporate Communications Gulfstream Aerospace Corporation. "The willingness of the Hong Kong Civil Aviation Department to open night slots for the G650 recognizes the tremendous advances we've made to ensure this aircraft is one of the quietest in operation today. We're grateful we can offer Gulfstream operators this additional capability."
In addition to the new G-650 noise approval, the number of night slots allocated for business jets to use is set to increase from its current five to seven from 2300 to 0700 (local time) at HKIA. The announcement comes after months of close cooperation between HKCAD and AsBAA to resolve some of the bottlenecks affecting transport systems in Hong Kong.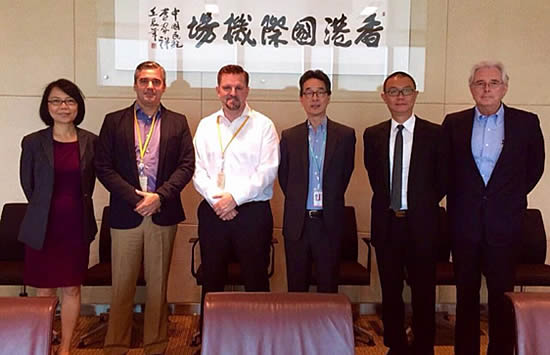 (L to R): Vivian Cheung Deputy Director Airport Operations, Charlie Mularski Chairman AsBAA, Mike Walsh Board of Governor Member AsBAA, C K Ng Deputy Director, Airport Operations of Airport Authority Hong Kong, Steven Yiu General Manager Airfield, Denzil White Board of Governors AsBAA
AsBAA Chairman, Charlie Mularski said, "Through AsBAA, we work with the leadership in all governments in the region to lobby for the local operators and business aviation community so that we can work towards alignment of the strategies and goals for each country to better enable the growth of business aviation in the region. This recent announcement from HKCAD to add the Gulfstream 650 to the exempted list for night flights is a very encouraging move forward, and indicative of the spirit of cooperation that exists between AsBAA (on behalf of its members) and local government bodies. Supporting the infrastructure and regulations required to allow business aviation to flourish will assist in ensuring the continued economic growth in our region."
AsBAA has been actively advocating its view that the short-to-mid-term solution in Hong Kong is about creating more options that reduce the pressure on existing infrastructure. The association has been working in the region to promote a synergy of air, road, rail, rotor that works well together and un-bottles bottlenecks. For this to become a reality, AsBAA has been lobbying for some key changes that includes: easier and flexible permits for business jets to land, recognition and understanding of business jets in terms of noise profiling, combined with an efficient bridge connection and/or helicopter for faster transfers that will immediately increase revenues for the airports and cities.
Mularski concludes with, "AsBAA can help bring investment and users through its members. All this can be achieved without much infrastructure development. It's a very easy business model to figure out. We have seen it in the New York Area as well as the greater London Area. We just need to see the focus on attracting business aviation. The solution lies in easier permit process and more efficient utilisation of the existing ramp or parking space and slots. This recent announcement from HKCAD is a positive step forward in the utilisation of existing resources and night slots. From a big picture perspective – attracting business aviation will lead to economic development in the wider Pearl River Delta (PRD) - we know that business aviation hubs leads to investment, growth, job creation and overall economic development."