ExecuJet, part of the Luxaviation Group, is expanding its UK fleet with the additions of a Bombardier Global Express XRS and the world's first G-registered Dassault Falcon 8X.
The Global Express XRS has capacity for 14 passengers and a range of 6,000nm. Capable of flying from London to Los Angeles, it is based at Luton Airport and is now available for charter. The commercially operated Falcon 8X can accommodate 14 passengers and has a range of 6,450nm. The Falcon 8X was also a completions project led by Kevin Fincham, Key Account Manager and former Head of Completions Management, ExecuJet.
Fincham says: "The Falcon 8X was built at Dassault's manufacturing facility in France and was transferred, unpainted and without an interior, to the US for interior completion. Our completions process involved visiting the US every month, to ensure that every stage of manufacture met ExecuJet's high standards. The client wanted the paint scheme to match the existing 7X they had used for the past five years. We used multiple high-resolution photographs of the client's 7X, supported by projectors and lasers to display the stripe layout on the aircraft enabling us to perfectly match the two aircraft."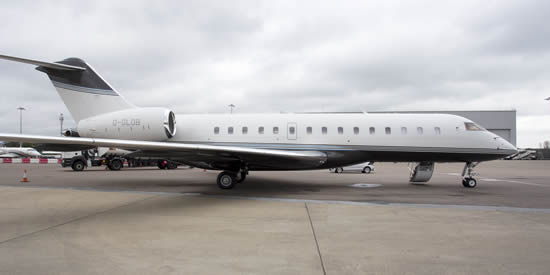 Global Express XRS
Niclas von Planta, Vice President, ExecuJet Europe, says: "We are always seeking to add to our fleet and are delighted with these latest additions. We are particularly proud to be managing the UK's only G-registered Falcon 8X, which our completions team delivered to an exceptionally high standard. Nearly one third of ExecuJet's global fleet of 165 business jets is managed by ExecuJet Europe, so we are more than prepared for further additions and look forward to welcoming new aircraft to the Luxaviation Group's global fleet."
ExecuJet Europe's total fleet now stands at 48, made up of 15 Dassault Falcon and 8 Global Express aircraft. From the UK, ExecuJet currently manages a total of 18 commercial and private aircraft.
Both new aircraft fall under the management of ExecuJet Europe. ExecuJet is also pleased to announce the appointment of Pete Stroud as its Accountable Manager for ExecuJet's UK AOC.