Jetex Flight Support is marking another milestone in its history with the announcement of a successful tender to provide FBO services at Ciampino-G.B. Pastine International Airport (CIA/LIRA) in Rome, Italy.
Set to open in the second half of 2017, the Ciampino FBO will herald Jetex's entry to the Italian market and further expand the company's European network, which encompasses locations in France, Ireland, Spain and Ukraine amongst others.
"Opening an FBO in Rome represents an important strategic step in expanding our presence in Europe," said Jetex CEO & President Adel Mardini. "The city's central geographical location, together with its importance as the country's political and financial capital, makes it the ideal location to establish our first FBO in Italy."
As Rome's main hub for general aviation, Ciampino Airport consistently ranks on the list of top 10 busiest GA airports in Europe. Ciampino saw an average daily departure rate of 21.1 GA flights in 2016, reflecting its position at the heart of Italian business aviation.
"With a rich heritage of over 100 years of operation and close proximity to Rome's city center, Ciampino remains an important and strategic asset to the Italian airport system," said Mardini. "Providing FBO services at Ciampino allows Jetex to bring our world-class flight and ground handling services to a wider market."
Based at the 1,800m2 GA terminal, the Jetex FBO will provide a range of ground support services including fueling, ground handling, aircraft parking, and ramp services. A full spectrum of flight support, ground transfer, and bespoke concierge services will also be available at the facility or via Jetex's operations centers in Dubai, Miami and Beijing.
Co-branding with Edeis strengthens European foothold with addition of 15 locations in France
Under a co-branding agreement with French airport developer Edeis, Jetex will provide FBO services and ground handling support across 15 locations within the Edeis Airports network in France. This new partnership officially comes into play on June 1, 2017.
The 15 FBOs will bring the total number of Jetex locations in Europe to 25.
"This partnership further expands the Jetex network across France, creating a stronger foothold for us in Europe," said Adel Mardini. "The Jetex brand is synonymous with quality, and we will be working closely with the Edeis team to ensure our clients enjoy the unparalleled experience they expect from a Jetex facility."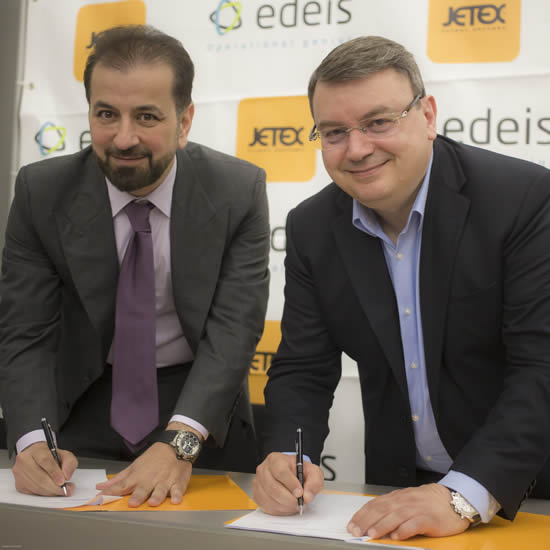 Jetex CEO & President, Adel Mardini (left) with Youssef Sabeh, General Manager of Edeis.
"Edeis is delighted to partner with Jetex and propel ground support service quality to new heights," said Youssef Sabeh, General Manager of Edeis. "Under this agreement, we combine the excellence of the Edeis Airports network with Jetex's reputation as a first-rate FBO provider, enabling each of us to grow our business aviation objectives. As a result, Edeis and Jetex clients will enjoy access to unmatched levels of service."
Locations within the Edeis Airports network that are included in the agreement are Angoulême, Annecy Mont Blanc, Auxerre, Bourges, Châlon, Cherbourg, Dijon Bourgogne, Le Havre, Nimes Camargue Cévennes, Reims, Tarbes Lourdes Pyrénées, Toulouse Francazal, Tours Vale de Loire, Troyes, and Vannes Golfe du Morbihan. The partnership will extend to other airports managed by Edeis in the future.
Leveraging on Edeis's local expertise and Jetex's ground handling experience, clients benefit from increased convenience when travelling throughout France. Additionally, the partnership opens up direct access to Jetex's full range of services, including but not limited to global trip planning, fueling and bespoke concierge services. As one of the largest FBO networks in France, the partnership is set to bring more private aviation traffic to the country.
First venture into Spain
Last week, Jetex announced its first venture into Spain with ground handling stations in three new locations: Barcelona-El Prat Airport (BCM/LEBL), Adolfo Suárez Madrid-Barajas Airport (MAD/LEMD), and Málaga-Costa del Sol Airport (AGP/LEMG).
"Spain is an important player in the European business aviation community, as indicated by a 6.4% year-over-year growth in flight departures," said CEO Adel Mardini. "With the Spanish economy forecasted to grow strongly over the next few years and tourism on the rise, Jetex is positioning itself to provide the highest level of service at these key airports as private jet traffic increases in the country."
Operating from the general aviation terminal at each airport, Jetex will provide 24/7 ground support including aircraft fueling, ground handling, aircraft parking, and ramp services. Customs and immigration facilities and hangar space are also available.
"The addition of the three Spanish ground handling stations fortifies Jetex's global presence by allowing us to serve clients in key regions of Spain, as well as open gateways to important markets such as North Africa," said Yolanda Avalos, FBO Manager, Jetex Spain. "With a total of 25 locations in Europe alone, more private and business aviation clients can now experience the exceptional level of service and quality that defines the Jetex brand."
Passengers and crew flying through the three airports will enjoy a range of facilities, including but not limited to executive and crew lounges, meeting rooms, and private car parking facilities. A full spectrum of flight support, ground transfer and bespoke concierge services will also be available 24/7 at each facility or via Jetex's operations centers in Dubai, Miami and Beijing.
"We welcome Jetex and congratulate the company on its new openings in Barcelona, Madrid and Málaga," said Spanish airports operator Aena. "As a new addition that supports business aviation, Jetex will enhance existing ground handling services provided to the executive aviation sector."