Textron Aviation announced during EBACE that it has secured an order from Waves Technologies Ltd for a Cessna Grand Caravan EX utility turboprop.

The aircraft is expected to deliver in the coming months and will support the launch of Waves' new on-demand, user-driven air taxi service for the U.K. Channel Islands.

"We are thrilled Waves has chosen the robust Grand Caravan EX platform to launch this exciting new air taxi service," said Tom Perry, vice president of Sales, Europe. "We are confident that the Grand Caravan EX will provide Waves and its customers a dependable and comfortable experience with the aircraft's ability to land on short runways, carry high payloads and take on nearly any mission with efficiency and simplicity."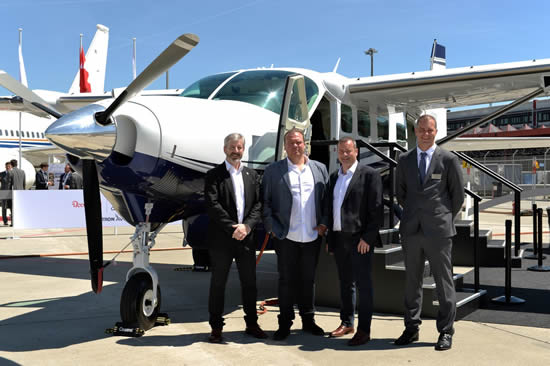 (L to R): Barrie Baxter, Nick Magliocchetti, Matt Bisson (Waves Technologies Ltd); Steve McKenna (Textron Aviation)
Waves Technologies Ltd is redefining the air taxi service with innovative technologies and customer-driven insight. The Guernsey-based flight service is set to launch in August and will fly customers to and from the Channel Islands using a state-of-the-art reservation system that will allow customers to reserve flights in real time based on user demand. The Grand Caravan EX will be the company's primary air taxi platform, providing Waves with a class-leading turboprop platform unmatched in the segment.

"We are very excited to be working closely with Textron Aviation," said Waves CEO Nick Magliocchetti. "The support and encouragement has been priceless. The Grand Caravan EX is the perfect choice for our inter island air taxi service and the positive feedback it has received during our demos across the islands has been outstanding. We look forward to a long and prosperous relationship together."

The recent passage of the European Aviation Safety Agency (EASA) commercial air transport (CAT) single-engine turboprop (SET) instrument meteorological conditions (IMC) regulation plays a vital role in opening up operations for companies like Waves to utilize the Cessna Caravan platform to drive their business forward.


The Cessna Caravan fleet of more than 2,500 aircraft is certified in 100 countries with more than 13 million flight hours amassed since the aircraft was introduced. Caravans fulfill roles for multiple missions, ranging from flight training to recreation, commuter airlines to VIP transport, cargo carriers and humanitarian missions. The Grand Caravan EX was engineered for challenging missions, high payloads and short, rough runways, while providing single-engine economy and simplicity.
SETOps Conference 2017
In October 2016, BlueSky - in association with leading business aviation PR specialists, Emerald Media - held the first 'SETOps Conference & Fly-in' at London Oxford Airport. The sell-out event attracted delegates and speakers from throughout Europe and the United States and by popular industry demand, a second edition of the SETOps Conference will be held in London at the end of September 2017.
SETOps 2017 will be officially launched in June. To register your interest in attending, or to discuss sponsorship/exhibition opportunities, please contact either Tim Harlow at BlueSky News: tim.harlow@blueskynews.aero or Alison Chambers at Emerald Media: alison.chambers@emeraldmedia.co.uk