As the Dubai government's business aviation hub at Al Maktoum International Airport within Dubai World Central (DWC) begins to take shape, Jet Aviation and its joint venture partner, the Al Mulla Business Group, are outfitting a brand new facility in the shared terminal at Dubai South.
Jet Aviation plans to go operational at the world's largest purpose-built VIP Terminal in Q3 2017, and intends to hold a Grand Opening at the Dubai Airshow in November 2017.
The up-scale 600-square meter FBO will feature three customer lounges, a conference room, crew lounge and operations center, two prayer rooms, shower facilities and a separate sitting room for chauffeurs. A large Duty Free store is also located at the executive terminal.
Until a hangar facility at Dubai South becomes available, the company will offer line maintenance services through the FBO and continue to provide base maintenance services through its MRO facility at Dubai International Airport.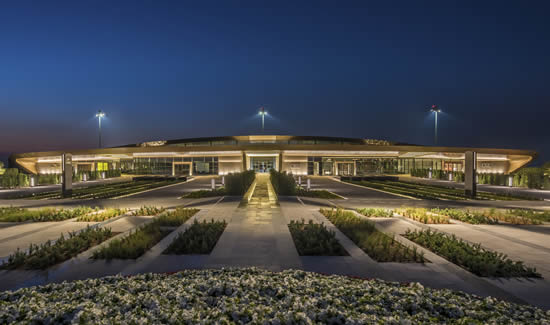 Dubai South VIP Terminal.
"We've had a number of recent developments in our global FBO network, but given the policy emphasis on migrating business aviation traffic through Dubai to DWC, we are very pleased to soon reopen our FBO operation at Dubai South," said Stefan Benz, senior vice president and general manager, MRO and FBO, EMEA and Asia. "We wanted to ensure we can meet future capacity requirements without compromising style or comfort, and we look forward to welcoming customers to our newly outfitted facility at the VIP terminal."
Jet Aviation's facility in Dubai has handled more than 25,000 aircraft and received numerous awards for its 24X7 domestic and international handling services. Most recently, it was voted Best FBO in the Middle East & Africa in the 2017 Professional Pilot PRASE Survey, its 7th such honour.
The company's maintenance and FBO location was established in May 2005 as a joint venture company with the Al Mulla Business Group. The facility has a total of 4,200 square meters (45,192 square feet) of hangar space, a workshop area of 1,000 square meters (10,760 square feet) and a two-story FBO building with an area of 1,050 square meters (11,300 square feet).
The facility holds EASA #145.0317 maintenance approval and is an FAA #U8JY426Y repair station. It also holds Bahrain CAA, Bermuda DCA, Cayman CAA, India DGCA, San Marino CAA, Saudi Arabia GACA, UAE GCAA (NAA), Pakistan CAA and Afghan CAA approvals. Jet Aviation Dubai is an authorized service center for maintenance and warranty support to Boeing BBJ, the Gulfstream G150, G200, GIV and GV, G450, G550 and G650 series, the Dassault Falcon 900, 2000 and 7X series, and full service capability for Hawker Beechcraft 800/900 series, Airbus ACJ series and Embraer Legacy aircraft. The company expanded its VIP handling service delivery to Al Maktoum International Airport at Dubai World Central (DWC) in December 2012.
Aircraft management and charter operation opens in Malta
In further news, Jet Aviation has announced a joint venture agreement to establish an aircraft management and charter operation in Malta. The company is working to obtain an air operator's certificate from the Civil Aviation Directorate in Malta, which it expects to receive in Q3 2017.
"The Malta operation is an ideal complement to our Swiss and German operations - and a very strategic addition to our aircraft management and charter business in EMEA," says Jürg Reuthinger, senior vice president and general manager of Jet Aviation's aircraft management and charter operations in EMEA and Asia. "Adding an additional AOC in the European Union, Jet Aviation customers benefit from further flexibility in their choice of registrations and operation."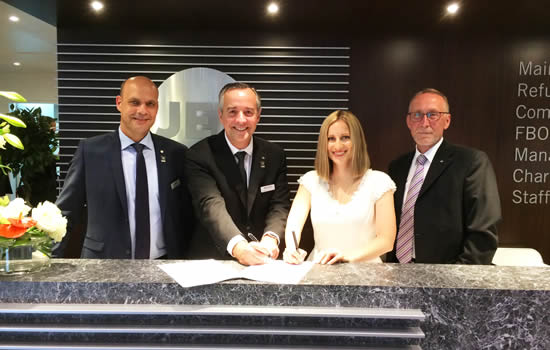 (L to R): Claudio Peer, VP Sales, Aircraft Management and Charter, Jet Aviation, EMEA and Asia; Rob Smith, Jet Aviation Group President; Jarka Sommeregger, CEO, Luxury Business Jets; and Jürg Reuthinger, SVP & GM, Aircraft Management and Charter Operations, Jet Aviation, EMEA and Asia
The joint venture partner, Luxury Business Jets, is part of a large holding company based in Slovakia. "It is a great opportunity for us to increase our presence in the aviation sector together with a strong and experienced partner like Jet Aviation,'' says Jarka Sommeregger, CEO of Luxury Business Jets. The company has arranged for two aircraft, a BBJ1 and a Legacy 600, to be operated under the new Maltese AOC. These two additional aircraft will join Jet Aviation's growing aircraft management and charter fleet in EMEA.
In addition to the Malta operation, Jet Aviation continues to grow its aircraft management fleet. The company has signed four new aircraft management agreements in EMEA this year, including a Global 6000, a Global Express, a Learjet 60XR and a Gulfstream G650. Luxury Business Jets a.s. is owned by the Grafobal Group a.s., a holding company based in Bratislava, Slovakia.
Although many of the companies in the group have been in business for decades, the holding group itself was established in 1998 in order to combine the activities of various companies owned by Mr. Kmotrik. Grafobal Group manages a wide array of global investments ranging from printing, packaging, distribution and sale of goods, media and advertising, to real estate development, healthcare, sports and, not to forget, air services. It operates in more than 10 countries and currently employs more than 6,000 people. Based on its annual revenues, it is the largest non-financial company owned solely by Slovak capital.