Rolls-Royce, Purdue University and the State of Indiana announced a new $24m jointly-funded program during the International Paris Air Show that further strengthens the state's leadership position in the aerospace industry.
This new initiative will establish unique gas turbine research capabilities at Purdue's Zucrow Laboratories which will focus on advanced turbine aerodynamic and heat transfer technologies. Rolls-Royce will apply these technologies to jet engine airfoil components - blades and vanes - in current and next-generation jet engines produced at the company's Indiana facilities.
The Indiana Economic Development Corporation (IEDC) is supporting this partnership with $6m over the next three years through the Indiana 21st Century Research and Technology Fund, which promotes Indiana economic growth and innovation-driven public-private partnerships. Purdue University is supplying facilities and equipment infrastructure investments of $8m, with Rolls-Royce committed to contribute up to $10m.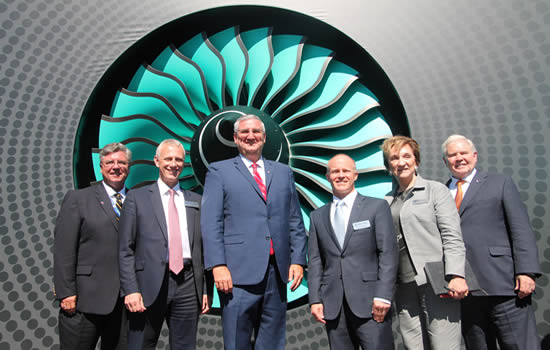 Rolls-Royce, Purdue and the State of Indiana Announce a new research agreement at the 2017 Paris Air Show. Pictured left to right: Dan Hasler, President, Purdue Research Foundation; Chris Cholerton, Rolls-Royce, President Defense Aerospace; Indiana Governor Eric J. Holcomb; Phil Burkholder, President of Defense North America; Marion Blakey, President and CEO, Rolls-Royce North America; and, James Schellinger, Indiana Secretary of Commerce.
A new turbine test rig will be installed and research will be done at the Purdue Experimental Turbine Aerothermal Laboratory, which is a recent expansion of the Zucrow Laboratories. Zucrow Laboratories is one of the nation's largest university propulsion laboratory for research aimed at reducing fuel consumption and emissions for next-generation jet engines. Purdue has 40 faculty and graduate students working on current Rolls-Royce research projects.
"Rolls-Royce continues to address our customer's needs for powerful thrust and fuel efficiency. This agreement will allow us to work with Purdue's innovative jet propulsion labs at Zucrow to construct modern, efficient advanced turbine airfoils for current and future engines," said Phil Burkholder, President of Defense Aerospace, Rolls-Royce North America.
"Working together with the State of Indiana and Purdue University, we are strengthening the state's aerospace industry. The strong relationships we enjoy in the state enable us to make significant and repeated investments like these in Indiana - from our recent $600m facility modernization and technology initiative, to the opening of our facility earlier this year at Purdue's new Aerospace District in West Lafayette," said Marion Blakey, President and CEO of Rolls-Royce North America. "Together, we are ensuring that Indiana remains a leader in the aerospace industry for decades to come."
"Here on the world stage of the Paris Air Show, Indiana's leadership in the global aerospace industry is clear," said Indiana Governor Eric J. Holcomb. "Many of the innovations we're seeing presented on the trade show floor were fostered by key partnerships between our state's universities and industry leaders. With this latest team-up between the state, Purdue and Rolls-Royce, I can't wait to see new turbine technology take flight in Indiana."
"Purdue and Rolls-Royce have a long history of collaboration in research and development that leads ultimately to critical advances in the aerospace industry," said Purdue President Mitch Daniels. "With the additional support from the state of Indiana, we look forward to even greater successes for our partners, our researchers and our students."
Turbine airfoils are individual components within a jet engine that extract energy from the high temperature, high pressure air produced by the combustor. They operate in the hottest part of the jet engine, in temperatures that are far greater than the melting point of metals. Engineering excellence, advanced materials and modern manufacturing methods help cool the turbine airfoils to provide optimum performance in this extreme environment.
A Legacy of Innovation
Rolls-Royce and Purdue have been working together on gas turbine research since Rolls-Royce purchased Allison Engine Company in 1995, continuing a decades-long relationship between Allison and Purdue. In 2003, Rolls-Royce recognized Purdue with a University Technology Center (UTC) designation for High Mach, the first such center in the U.S. This designation as a UTC inducted Purdue into a unique and exclusive Rolls-Royce network of prestigious research universities around the world. As a UTC, Purdue became a critical part of the company's technology development strategy. In 2016, Rolls-Royce elevated Purdue University to a status of global University Technology Partnership (UTP). Along with this recognition, Rolls-Royce committed to conduct at least $18.3 M of research with Purdue over the six years of 2015 through 2020.