Emerald Media and BlueSky are delighted to confirm that they are teaming with the Royal Aeronautical Society (RAeS) as partner and hosts for the second SETops (Single Engined Turboprop Conference).
The full day event will take place on Friday, 29th September at 4 Hamilton Place, London W1J 7BQ.
This event follows on from the well-attended October 2016 Conference at London Oxford Airport as the industry prepared for a change in the EASA rules. On March 1st this year the European Commission duly confirmed amendments to the Air Operations regulation approving commercial air transport operations with single-engined turbine aircraft in IMC or at night (CAT SET-IMC) in Europe.
The new EASA regulation establishes a framework for CAT SET-IMC operations to open in 32 European states and in so doing, ushers in a new entry level business charter market for aircraft such as the Daher TBM 950; Pilatus PC-12NG and Cessna Grand Caravan, plus new arrivals like the Denali and Piper M600.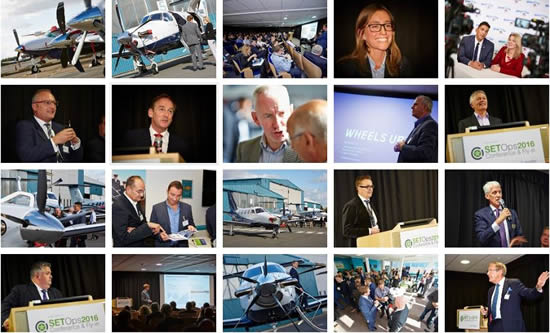 SETOps 2016 Conference & Fly-In at London Oxford Airport - a sell-out event!
The new ruling will be the catalyst to open up new routes from smaller airfields which can be operated safely and efficiently only by single-engine turbine aeroplanes. The move is already spawning new business models, several of which will be represented at this forthcoming event. This EASA ruling is a significant development since several attempts in the past two decades has failed to amass sufficient consensus among EU states.
Representatives of the principal SETops manufacturers will participate, and as we shape the programme, we would like to hear from international SETops players who would be interested in contributing.
Speakers already confirmed include:
Richard Koe, Managing Director, WINGX
James Dillon-Godfray, Head of Business Development, London Oxford Airport
Pauline Vahey, Chairman, GAIN
Simon Talling-Smith, CEO, SurfAir Europe
Matti Auterinen, Chairman, Hendell Aviation
Yves Roch; CEO, Fly7
Edwin Brenninkmeyer, CEO, Oriens Aviation
Simon Witts, CEO, Aviation Skills Partnership
Adam Twidell, CEO, PrivateFly
Alex Berry, founder AlexGBerry.com
Brendan Lodge, AviaLodgic
Maxime Bouchard, Managing Director, JetFly
Marc Bailey, BBGA
Further information, updates and registration details will be published here - and on the Royal Aeronautical Society's website [ https://www.aerosociety.com/events-calendar/setops-2017/ ]during in the coming weeks.
A limited number of sponsorship/exhibition opportunities are still available. Please contact either Alison Chambers at Emerald Media or Tim Harlow at BlueSky News for more details.