Global MRO services provider, Vector Aerospace Corporation, recently ran a series of "Vector Ag Customer Days" for the second year running.
The events focus on the important Australian agricultural aerial application operator and firefighting segments and were held in collaboration with Field Air and Pratt and Whitney Canada (P&WC).
The first Ag Customer Day was held in Moree, New South Wales, with the second held in Adelaide, South Australia ahead of the Aerial Agricultural Association of Australia (AAAA) National Convention. Highlights of the sessions included a live hot section inspection (HSI) demonstration on a P&WC PT6A engine model, during which Vector's mobile repair team (MRT) experts took the engine apart, thereby allowing attendees to better appreciate how the HSI is performed.
The events also benefited from the insights provided by P&WC's local Field Support Representative (FSR) and Customer Service team, including a cutaway PT6A engine plus a variety of components exhibiting the types of engine damage experienced by Ag operators in the field, including lightning strikes, corrosion and foreign object damage (FOD).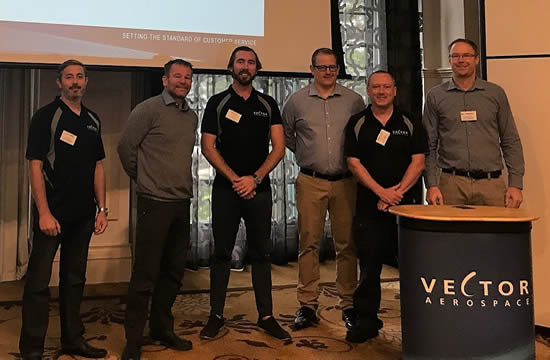 Vector Aerospace representatives, (L to R): Simon Atherley, Malcolm Venturi, Matthew Veitch, Simon Wilks, Nick Mears and Matt Dennington.
Commenting on the Ag Customer Day events, Matt Dennington, General Manager of Vector Aerospace Australia, said: "These Customer Days offer a great opportunity for us to focus on the unique needs of our agricultural aerial application operators, receiving valuable feedback from the field and in turn highlighting the wide range of services offered by Vector. Working closely with P&WC, we are able to offer a broad range of cost-saving opportunities for the ag operator community, while at the same time supporting their demanding aircraft utilization schedules with reliable engine performance."
Vector Aerospace Australia is a P&WC Designated Overhaul Facility (DOF) for a wide range of P&WC PT6A engine models including the PT6A-11AG, PT6A-15AG, PT6A-34AG, PT6A-60AG, PT6A-65AG and PT6A-67AG, designed specifically for the ag industry. In addition, Vector's Summerside facility in Canada also supports the PT6A-41AG engine model.
Field Air, established in 1963, is one of the leading aerial application businesses in Australia. The company was formed at Ballarat in Western Victoria, primarily to provide aerial spreading and spraying services to farms in Western Victoria. Field Air then expanded into the Riverina of NSW working on rice and other irrigated and dry land crops. In the early 1970s, the company expanded when it took on the Australian dealership for Air Tractor.