F/LIST GERMANY recently brought a Challenger 850 - registration 9H-BOO - to new splendor in its first large-scale refurbishment conducted in Berlin.
The project, for the Maltese air charter company AIR-X, marked the first major refurbishment conducted by newly founded F/LIST GERMANY, which originated from the former OHS Aviation Services GmbH in April of this year. The refurbishment was undertaken in cooperation with F/LIST's major strategic partner Lufthansa Bombardier Aviation Services in Berlin Schönefeld.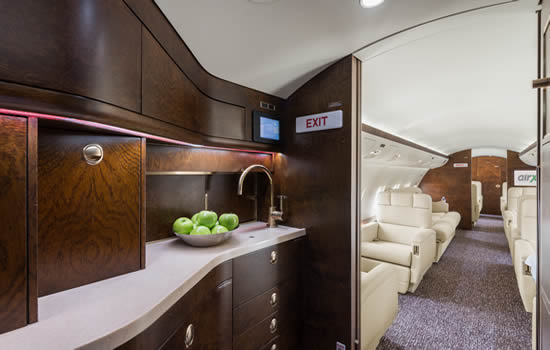 F/LIST GERMANY revamped the complete interior, including carpets, linings, upholstery and a rework of the matte oak surfaces.
In the course of "BOO's" refurbishment, all seats were re-upholstered with elegant cream-colored leather, to match the chic new fabric of the divan. New linings on ceilings as well as on lower and upper sidewalls and new PSU panels added to the clean and elegant overall look. A newly installed grape-colored carpet covering the entire cabin floor offers a sophisticated contrast with the otherwise light, cream refurbished cabin. The elegant matte oak surfaces of the galley, sideledges, bulkhead and partition were reworked to give the interior a completely new and sophisticated touch.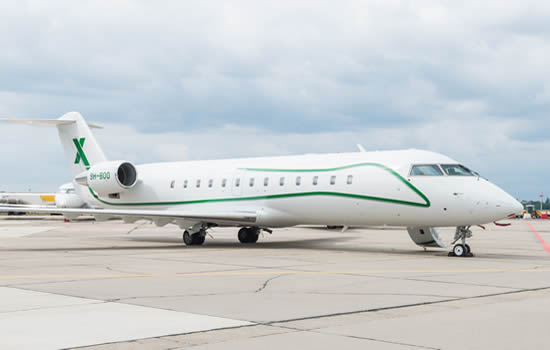 "BOO" is one of six Challenger 850 in the AIR-X fleet.
All the interior work was performed over a time of approximately six weeks at F/LIST GERMANY's EASA Part 145 approved upholstery & joinery facilities in Schönefeld, while Lufthansa Bombardier conducted mandatory fuselage and engine checks.
Shortly after bringing 9H-BOO back into service, Bernhard Wallner, CCO of AIR-X, said: "Thanks to the F/LIST Team for their great work. The result is amazing. Our customers love the new interior."
F/LIST expects this success to be the first in a line of many more projects to be completed in cooperation with Lufthansa Bombardier Aviation Services and other MROs worldwide.