Daher will offer avionics kits that upgrade all TBM models equipped with the Garmin G1000 - which includes TBM 850, TBM 900 and some modernized TBM 700 - to the G1000 NXi next-generation integrated flight deck configuration.

The system change - available through Daher TBM authorized distributors - will replace the flight deck arrangement on G1000-equipped TBM 850s and TBM 900s with Garmin's successor configuration, the G10000 NXi. This involves a changeout of the two primary flight displays, the multi-function display and the control keypad, along with new software and database installations. The upgrade kit has an introductory price of $59,995 for orders received in 2017, which includes the buy-back of the removed equipment.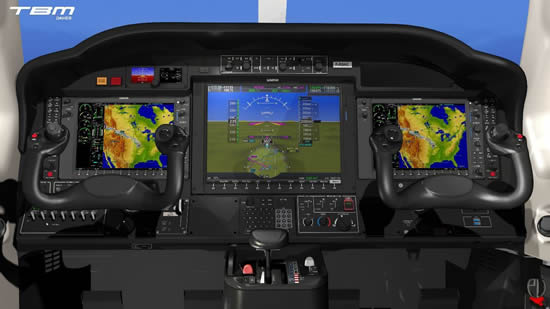 The G1000 NXi retrofit kits will be available in January 2018.
The upgrade will offer TBM operators faster system boot-up and software loading. Other benefits are the avionics system's ability to manage more data, displaying visual charts and offering more capabilities such as enhanced situational awareness with easy-to-read information. It also adds improved wireless cockpit connectivity, allowing aviation database uploads using the Garmin Flight Stream from mobile devices. Another feature is the enhanced "feel" for pilots through the new keyboard joystick, providing more accurate panning and fluid navigation on the multi-function display pages.
"This latest upgrade underscores our firm commitment to offer TBM customers the latest enhancements as they become available, providing further improvements in efficiency, operability and safety," commented Nicolas Chabbert, the Senior Vice President of Daher's Airplane Business Unit. "We set a fair price for this enhancement as the result of our excellent partnership with Garmin, and I expect to see a large share of the 347 TBM 850/TBM 900s currently equipped with the G1000 version being converted to the new system."