Established in 1992 and headquartered at Stauning Airport, Denmark, BenAir has built up a unique expertise specialising in European Caravan operations. The company operates and maintains a growing fleet of 20 aircraft and helicopters under EU AOCs, with scheduled air freight accounting for 90% of its commercial operations.
Alison Chambers spoke to BenAir Director & Board Member, Bruno Budim, about his experiences in the SET sector and the challenges of running a successful operation:
As a SETOps pioneer what advice do you have for those looking to start out with them?
Light commercial aviation has suffered considerably over the last decade. Many small commercial operators have disappeared; (estimated six to seven out of 10 in Scandinavia alone, since 2008.) The picture is the same in Europe. Some operators ceased in the face of regulatory challenges they couldn't cope with, but most small operators have gone out of business because they couldn't develop sustainable activities in the very constraining regulatory environment.
The number of commercial air services available in the periphery of Europe is somewhat lower than 10 and 20 years ago - and considerably lower than in similar geographical environments in North America for example. SET IMC CAT, however, is an opportunity for us to try and remedy this. And to finally revive and develop new air services on low density routes or in remote regions.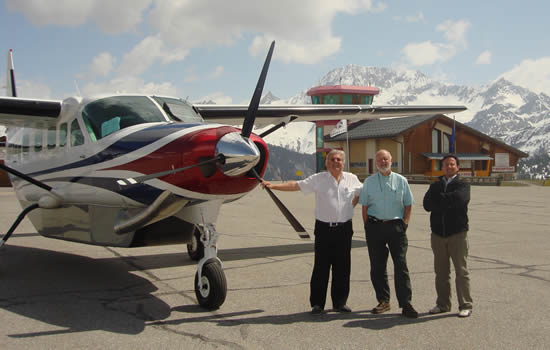 C208B at Courchevel Altiport. Pierre Lacorne, Cessna SET CRI & CRE, former president of Aviation Sans Frontičres (NGO operating C208s in Africa); Peter Bennedsen, CEO & Founder, BenAir A/S; Bruno Budim, Director & Board Member, BenAir A/S.
I don't think that we could repeat today how we started 25 years ago - building up the business one aircraft at a time - unless considerable capital resources were put in play and some risk share offered. The present regulatory framework leaves little, if not any space to start from scratch and to grow organically. In my view it does give the possibility to adopt collaborative approaches that we could not embrace before. Hopefully, these can lead to sustainable economics.
Quite simply, "light commercial aviation activities are local, but the certificates they must rely on must be shared - on a European level." It's a new paradigm and a big challenge for our industry in Europe. This is the approach BenAir is embracing, developing business activities with partners that have or has identified needs in their local markets, growing aviation services on our existing AOC, where we bring two decades decades of SET IMC CAT experience.
What are the top three obstacles they will face?
I can't say what new or other operators will, or may, face. It depends on their staff, financial resources, business case, organization, location, etc. But I can say what has been challenging for us for these reasons:
Recruiting and setting up the right team of people and skills to manage the regulatory and operational challenges with a good understanding of our business environment
Finding and collaborating with the right business partners to extend our geographical reach and grow long-term, successful activities
Knowing where to allocate capital resources to maximize chances of success, and minimize risks.
Business success is a critical driver and underlying condition for aviation safety.
How has the Caravan helped your business?
The Caravan is dependable, versatile and a worldwide success. This has meant and still means that we can develop our business with confidence in the technical platform we use, with flexibility to adapt to new business cases we find.
The Caravan cannot do it all. As is common in aviation, it is a matter of acceptable trade-offs. But what the Caravan does, it does it well, so well that it inspires competitive designs like the PC12 and the TBM have. The downside is that their pricing has stretched, probably close to thr outskirts of economic sustainability.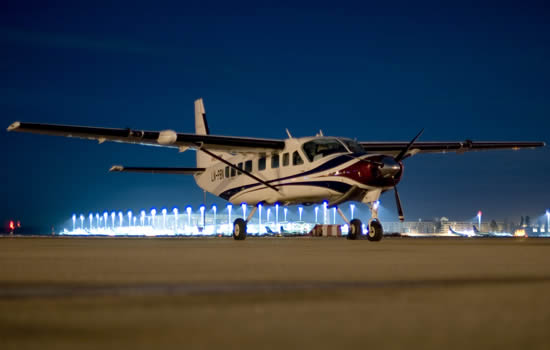 Cessna Caravan returning to Oslo Gardermoen after its daily freight rotation | Photo: ElvindBoe
We have new business models coming in now on the back of EASA's relaxation of rules. What do you think of this?
Most of the new business models we have seen emerge came more as a response to an excess of regulation, rather than a relaxation of it, and we see them as being opportunistic in an environment where rules are overwhelming but their enforcement sometimes deficient.
I am concerned that newcomer "cost-sharing" models use legal and marketing artifice to bypass the regulation applicable to commercial air transport by pretending they are private operations / services, not commercial. In doing so, they can avoid the rules and the supervision that commercial operators are submitted to. And this is far from marginal. It gives them an edge and room to play with such issues like crew duty times, crew experience, training and medical standards, airport minima, aircraft equipment, etc. Furthermore, they can operate with very limited supervision and control by the authorities.
Sadly, I fear it will take fatalities in our sector to see real decisive reaction from the rule-making and rule-enforcing authorities, he concludes.