The Parker Aerospace Aircraft Wheel & Brake Division and Piaggio Aerospace have announced that the program aimed at offering owners and operators of the P.180 Avanti, Avanti II and Avanti EVO the opportunity to select an alternative retrofit configuration for the wheels and brakes of their aircraft is now in the advanced stages of development and certification.
The program was designed last year as a mutual commitment to provide continuous quality and substantial economic value over the whole life of the product. Recently completed are the overpressure, radial load, fatigue (roll), and brake endurance tests, while the final wheel load tests are scheduled for completion in the month of October. Preliminary physical fit and static functional checks have been conducted on both configurations of landing gear of the Avanti and of the Avanti EVO. On-runway braking tests will take place next year, with final approval and release of the product expected in the course of 2018.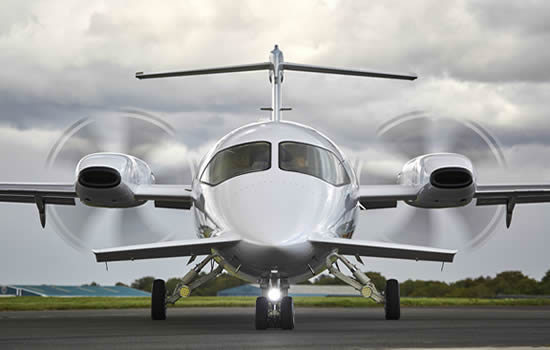 Piaggio Avanti Evo | Photo: Paul Cordwell.
Aircraft Wheel & Brake Engineering Manager Dan Basch noted, "Compatible with the most commonly used tires in the field today, the Parker forged aluminium wheel provides excellent corrosion resistance, as well as advanced safety features protecting against both manual and thermally induced tire over-pressurization. Heat shields are included in the design to help maintain acceptable tire temperatures. The Parker steel brake integrates seamlessly with existing aircraft normal and emergency hydraulic systems, and requires no aircraft or landing gear modifications to install. The high-performance steel brake was engineered to maintain smooth and consistent operation and even wear across the available life."
"The customized Parker steel brake was designed to offer the lowest possible operating costs while still providing unsurpassed quality," noted Aircraft Wheel & Brake Business Team Leader Tom Dorinsky. "The conversion kit will be offered at a very competitive price and will achieve a competitive cost per landing. The program will ensure a significant reduction in overhaul costs, projected to be as much as 70%, offered under a dedicated Piaggio Aerospace exchange program."
Aircraft Wheel & Brake General Manager Jim Stephens added, "All design efforts were performed with the goal of substantially reducing the operator's costs. We are proud to be part of the team partnering with Piaggio Aerospace to make this cost reduction a reality."
Piaggio Aerospace Chief Executive Officer Renato Vaghi said, "A partnership with an international and innovative manufacturer such as Parker responds to our positioning plans for our Avanti P.180 at a global level and will meet our customers' demands in a highly competitive industry, in particular in the US, which represents a strategic market for us."