Reaffirming its commitment to Dubai South, DC Aviation Al-Futtaim (DCAF), a joint venture between Dubai-based Al-Futtaim and Germany's DC Aviation, has opened its second hangar at Dubai South Aviation District.
The opening ceremony held inside the new hangar on Sunday (12th November) was attended by Sheikh's, senior Dubai government officials, senior management from Dubai South, VVIPs and heads of major aviation companies from across the globe.
The new 7,500sqm hangar more than doubles the hangar capacity bringing its total land-side plot area to 24,000sqm and apron area to 13,000sqm.
Michael Kuhn, CEO DC Aviation Group said, "We committed to Dubai South at a very early stage, in December 2010, when Mr. Omar Al-Futtaim signed the land-lease agreement with Sheikh Ahmed bin Saeed Al Maktoum. From day one, we were fully aware of the tremendous potential. The opening of the second hangar fits in with our expansion plans and enables us to meet the growing demand for business and private jet operations in the Aviation District at Dubai South for years to come."
Holger Ostheimer, Managing Director DC Aviation Al-Futtaim said, "Since commencing operations in November 2013, we have seen our business grow steadily year-on-year. Our facility offers the shortest distance from limousine drop-off to aircraft steps and the highest levels of privacy and safety both of which have been widely appreciated and accepted by customers and operators."
His Excellency Khalifa Al Zaffin, Executive Chairman, Dubai Aviation City Corporation, said: "The Aviation District at Dubai South has been designed to support and grow businesses like DC Aviation Al-Futtaim where the aviation ecosystem enables them to leverage on the synergies with other suppliers and vendors. The inauguration of their second hangar will provide Dubai South with another milestone to better serve its customers and partners in one of the most promising aerospace hubs around the world. We look forward to further successful partnerships which will serve the regional markets and the UAE leadership's vision to make the country the aviation capital of the world."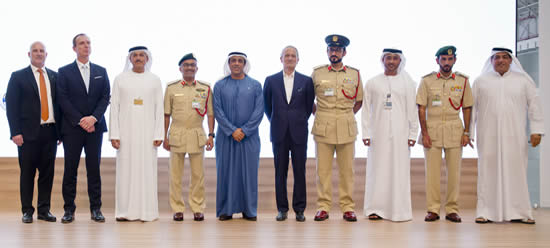 (L to R): Holger Ostheimer, Managing Director of DC Aviation Al-Futtaim | Michael Kuhn, CEO of DC Aviation Group | His Excellency Khalifa Al Zaffin, Executive Chairman, Dubai Aviation City Corporation | Major General Pilot Ahmad Bin Thani, Assistant Commander for Seaports & Airports Affairs | Major Omar Al Futtaim, Vice Chairman of Al-Futtaim | Dr. Lutz M. Helmig, Shareholder of DC Aviation Group | Colonel Hamed Al-Hashmi, Director of Al Maktoum Airport Department - Dubai Police | Waleed Bin Darweesh, Senior Manager of Al Maktoum Air Center Department, Dubai Airport Customs | Lieutenant Colonel Juma Al Roum, Head of Cargo at Dubai Airports, Dubai Police | Abubakr Al Futtaim, Director - Retail, Al-Futtaim.
Once the second hangar becomes operational DCAF will be able to add multiple single-aisle aircraft maintenance bays and provide enough space for additional workshop and equipment storage. It also significantly increases the number and size of aircrafts that can be accommodated at the facility. The hangar can easily accommodate up to a Boeing 767-300.
The additional hangar capacity will provide the foundation to further enhance the strategic cooperation between DC Aviation and Lufthansa Technik, enabling the company to extend its reach within the region and serve as first port of call for VIP carriers from the GCC.
Earlier this year, the company received its CAR145 approval from the UAE's General Civil Aviation Authority (GCAA) to provide line maintenance for the Dassault Falcon 7X aircraft type. With the extension of the CAR145 approval, DCAF is now able to provide B1 (airframe) and B2 (avionics) maintenance services for the Falcon 7X at its hangar located at Dubai South. In addition to the Falcon 7X, DCAF can provide maintenance support for customers operating the Bombardier Global Express, Challenger 604/605, Airbus 320 family, and the Global 6000 and Global 5000 Vision Flight Deck aircraft types.
The existing DCAF hangar measures 5,700sqm and can easily accommodate multiple ACJ or BBJ type aircraft, ultra-long-range business jets such as the Falcon 7X, Global Express or Gulfstream G650. Located in a prime position just off the airport's runway, the hangar and 7,700sqm dedicated ramp parking enable 24-7 support, maintenance services and operation of private and businesses jets of all sizes.