ExecuJet has announced plans to relocate its entire Dubai FBO and MRO operations to a single facility located at Dubai South's Al Maktoum International Airport (DWC).

Construction of the facility is due to commence in early 2018, with an estimated completion date set for the end of 2019, in time for the start of Dubai Expo 2020.

The brand new 25,700m² facility will be ExecuJet's regional HQ for the Middle East, home to an FBO, MRO services with 13,800m² of on-site hangar floor space, along with associated ExecuJet support services offices.

The FBO and MRO line-team, currently in place at DWC, will continue to provide maintenance support 12 hours a day, seven days a week; further supported by a 24-hour AOG hotline.

Mike Berry, Executive Vice President Aviation Services, Luxaviation Group, says: "The Middle East is a key region for us, with roughly 20% of the Luxaviation Group's overall business stemming from it. It is therefore essential that our facilities reflect this demand and it brings me great pleasure to be announcing our relocation to a much larger site at Al Maktoum.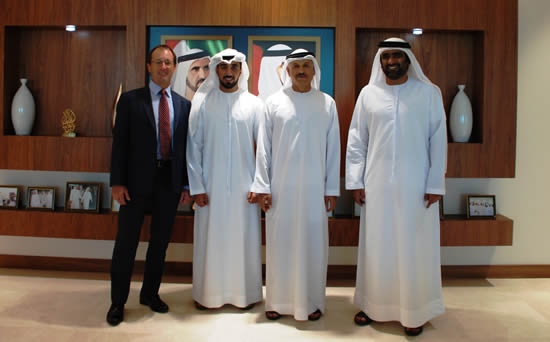 Mike Berry with Khalid Al Hai, Khalifa Al Zaffin and Tahnoon Saif.
"We began operating in Dubai in 1999 and opened a shared, single lounge FBO facility in 2007 with a team of just four ExecuJet employees. We have come an exceptionally long way in that time and our proposed expansion reflects the ambitious nature of everybody associated with the business. We look forward to welcoming customers to our new facility when it opens its doors in 2019."
ExecuJet currently manages two facilities in Dubai; at Dubai International Airport (DXB) and its temporary facilities at DWC, both providing FBO and MRO services. The DXB facility features eight luxury lounges with landside access, a Duty Free shop, ground handling and flight planning services. The 600m² DWC facility has four VIP lounges, a crew lounge and two transit lounges.
Dubai MROs offering Embraer Phenom 100 maintenance
In further news, ExecuJet's two MRO facilities in Dubai are extending their offerings in the Middle East with new approval to perform line and base maintenance on Embraer Phenom 100 aircraft and are now well positioned to support regional flight training academies who operate these entry-level aircraft types.
Nick Weber, Maintenance Director, ExecuJet Middle East, says: "This latest approval from the UAE's General Civil Aviation Authority has greatly enhanced the services that ExecuJet can provide for customers in the Middle East.
"Our MRO facility at Dubai International Airport can now perform 4,800 hour, 72 month checks on the aircraft; while at Al Maktoum International Airport, we have the capacity to carry out a wide variety of operations including defect rectification, engine and line-replaceable unit change and out of phase maintenance tasks.
"ExecuJet's Middle East team are committed to taking care of our local customer base in the region. To this end, we are looking forward to further growth in our OEM offering once we are fully established at our new location at Al Maktoum towards the end of 2019 which, excitingly, will be completed in time for the start of Expo 2020."