Airline caterer Gate Gourmet has partnered with synthetic dry ice provider, EcoSlice, to test a more environmentally friendly dry ice on board commercial aircraft. The pilot trial is the first of its kind for global commercial aviation.

Developing out of Australia, Gate Gourmet and EcoSlice's green dry ice project received the prestigious Innovation Award in the 2017 New South Wales (NSW) Green Globe Awards.

Gate Gourmet Australia's Head of Compliance, Mark Naylor said the airline caterer has completed real-time aircraft trials with great success: "Reducing our environmental impact is a guiding principle not only for Gate Gourmet but for aviation and food manufacturing in general - it's part of our responsibility to our airline customers, their airline passengers and the aviation industry," Mr Naylor said.

"Through partnering with EcoSlice, we've been able to test a synthetic dry ice which gives us a better quality of refrigeration than normal dry ice, with less greenhouse emissions. Thanks also to Virgin Australia, we've run real-time aircraft trials with great results.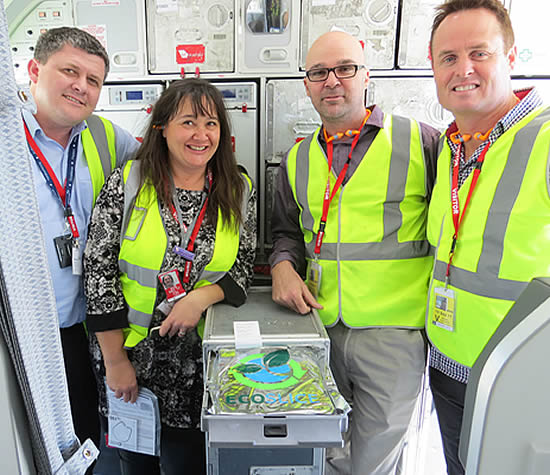 (L to R): Mark Naylor, Gate Gourmet | Alison Clark, Virgin Atlantic | Ben Rogers, EcoSlice | Damien Latcham, EcoSlice.
"These trials, held in March and June 2017, are not only the first of their kind in Australia, but also a first in the global commercial airline catering market. The synthetic dry ice product is innovative, cost effective, greenhouse friendly and importantly, much safer to use in the confined space of a commercial plane.
Managing Director for EcoSlice, Ben Rogers said EcoSlice was an idea founded from the need for a 'greener' dry ice product in the market.
"EcoSlice is environmentally friendly with no Co2 dangerous goods classification, and many more benefits. It has been independently tested with longer duration and freezing ability, compared to normal dry ice. We're very excited to work with Gate Gourmet on bringing this product to fruition, a move which is anticipated to assist airlines in reducing their carbon emissions once we begin mass production for this product."