Jet Aviation has been awarded the 2017 Icons of Aviation Asia Award for Best MRO (Singapore/Hong Kong).
The annual Awards are hosted by the Asian Business Aviation Association (AsBAA) to recognize aviation's best in the region, while promoting corporate social responsibility in aviation.
The event further served as a fundraiser for Orbis, the Flying Eye Hospital - raising more than US$26,000 for the non-profit NGO committed to treating preventable blindness in developing countries.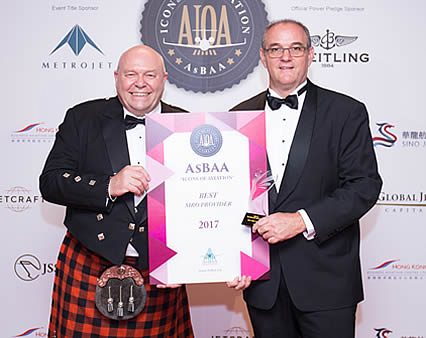 Nigel Parker, Managing Director of Jet Aviation in Hong Kong (left) and John Riggir, Vice President and General Manager of Jet Aviation in Singapore.
"It's a great honor to have the quality of our MRO network acknowledged by the industry," said John Riggir, vice president and general manager at Jet Aviation Singapore. "I couldn't be prouder of our teams of professionals who made this achievement possible through their unwavering commitment to safety and service excellence. We are all equally delighted to support the good and laudable work of Orbis, which uses aviation to deliver the instruments that facilitate the miracle of sight."
Asian Business Aviation Association (AsBAA) is a non-profit association established to enhance Business Aviation access, regulation, safety, knowledge, training, public awareness and contribution to the economy. As a member of the International Business Aviation Council (IBAC), it represents more than 80 operators, aircraft manufacturers, service providers and business aviation users based in Asia and around the world.
Jet Aviation Hong Kong offers line maintenance, inspections and defect rectifications, as well as AOG support, and has access to a 9,200 square meter (99,027 square feet) hangar. The company's Singapore facility provides scheduled and unscheduled maintenance, aircraft repair, defect troubleshooting and rectifications and aircraft modifications, together with interior refurbishment, avionics modification and exterior painting services.
The 27th November 2017 marked Jet Aviation's 50th birthday!

Since the company's first ever Learjet maintenance job in November 1967 - under the company's founder Carl Hirschmann (pictured right) - Jet Aviation now employs over 4,000 people across 30 facilities worldwide.

An online feature charting Jet Aviation's story is available here