A Bombardier Challenger 604, D-AMSC, made its final journey on December 19, 2017 aboard an Antonov 124.
The flight, from Muscat in Oman to Albrecht Duerer International Airport, Nuremberg, Germany was arranged by FAI Germany, which purchased the aircraft for parting out.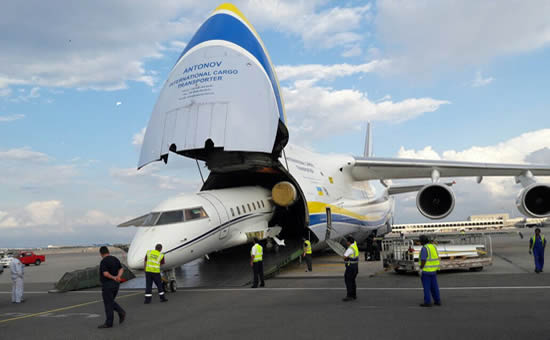 Loading of Challenger 604 onto Antonov 124 at Muscat International Airport
Formerly operated by Munich-based operator MHS, the 604 was involved in a freak mid-air accident on January 7th when wake turbulence from an Emirates A380 jetliner - flying 1,000 feet above it - sent the Challenger into an uncontrolled roll, flipping it upside down three times [possibly five] and causing it to plummet thousands of feet.
The Emirates Airbus A380-800 was at FL350, 630nm southeast of Muscat and about 820nm northwest of the Maldives - en route from Dubai to Sydney - when the business jet passed underneath in the opposite direction.

The crew of the Challenger, flying from Male (Maldives) to Abu Dhabi with 9 people on board, observed the Airbus passing 1,000 feet above but lost control of the aircraft as a result of wake turbulence from the A380.

The crew managed to regain control using "raw muscle force", but only after losing about 10,000ft. The airframe experienced very high G-Loads during the upset and a number of occupants received injuries.

After stabilising the aircraft, the Challenger crew diverted to Muscat (Oman) where the occupants were taken to a hospital. One was reported with serious injuries. The aircraft received damage beyond repair and has been written off.
The A380 continued the flight to Sydney without any apparent incident and landed safely.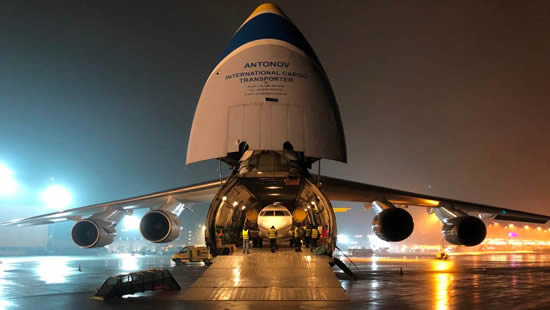 Unloading at Nuremberg International Airport.
FAI, Germany's largest business jet operator, acquired the aircraft after it was released by the investigating authorities. Its fuselage was declared irrecoverable by Bombardier, because the aircraft had been exposed to 3.5 G during the incident.
A team of engineers from FAI´s subsidiary FAI Technik removed part of the wings and the tail before the aircraft could be embraced in the AN124 for its last flight to FAI´s home base in Nuremberg.