Strong recovery in 2017 despite year-end dip
There was a 1% decline in YOY business aviation activity in December 2017, with a big dip in owner flights - mainly in Piston and Prop aircraft - according to WINGX`s latest monthly Business Aviation Monitor.
In contrast, Jet activity was up 6% YOY and the year ended with 4% growth in business aviation flights compared to 2016.
The slowdown in activity in December was centred in Western Europe, with fewer YOY departures from France, Switzerland, Germany and Italy. Flight activity was ahead in the UK and Spain, whilst Germany contributed the largest growth to flight activity during 2017.
Poland contributed the largest YOY growth with departures up by 25%. Sweden was also well ahead in December 17. Flights from both Russia and Turkey were down in December, although up for the full year. Greece had largest relative gains in 2017, up 14% versus 2016.
Although flight activity was down 2% in Western Europe this month, it was up 3% for the year. Southern Europe was up 7% in 2017 compared to 2016. Annual arrivals from North America were up 4%. Inbound flights from the Middle East were flat in 2017.
AOC activity completed a full year of solid growth, 7% ahead of 2016, and 9% ahead in business jet AOC missions. AOC activity in December was up >10% in Ultra-long range, Heavy, Super-Mid, Light and Very Light jet segments.
Private business aviation flights were down 7% in December, ending the year 1% up on 2016, although declining in business jet activity. Owner flights have increased in the Super-Light segment, but have declined substantially in other segments.
Cities with most business aviation flights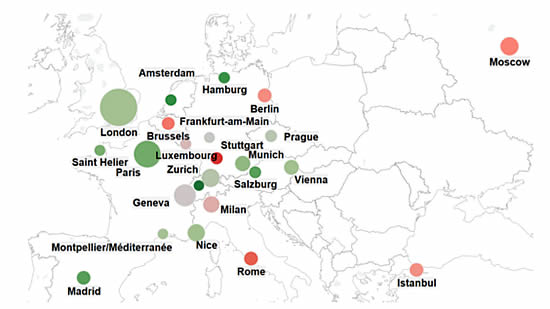 Solid growth out of London, Paris, Madrid, and especially Hamburg. Decline in Rome, Milan.
Aircraft
This month, a slight decline in Dassault jet activity, and a 5% drop in Hawker sectors, was offset by increased activity in Bombardier, Cessna, and Gulfstream flights. 4% growth in Learjet sectors was driven by more than 25% increase in SLJ and LJ Learjet flights.
Airports
The main declines in activity this month were felt in domestic flights in France, Germany, Switzerland. Departures from the UK and France to Spain and Italy were up more than 15%. The airport pair with most growth this month was Geneva to Farnborough.
Despite overall drop in flights in France, departures out of Le Bourget and Nice were well up, mainly in jet activity. Farnborough, Nice and Biggin Hill have contributed the most growth in activity in 2017. All top 20 airports had some growth compared to 2016.
Richard Koe, Managing Director of WINGX Advance, comments: "December's flight activity was slightly down but that appears to have been weather-related, mainly affecting owner-piloted prop and piston craft activity. Business jets continued to fly more, with double-digit growth across light, super midsize and large jets when it comes to charter operations. Overall, 2017 was clearly a strong recovery year for business jet demand in Europe, and we expect to see more of the same in 2018, as long as the underlying operating models can sustain high availability of aircraft at competitive prices."
Download the latest Business Aviation Monitor
---
WINGX Advance is a data research and consulting company based in Hamburg, Germany. WINGX analysis provides actionable market intelligence for the business aviation industry. WINGX services include: Market Intelligence Briefings, Customised Research, Strategic Consulting, Market Surveys. WINGX customers range from aircraft operators, OEMs, airlines, maintenance providers, airports, fixed base operators, fuel providers, regulators, legal advisors, leasing companies, banks, investors and private jet users.

WINGX Advance GmbH
Conventstr. 8 - 10 | Building A
D - 22089 Hamburg
Germany.
+49 40 32 84 69 78 phone | +49 40 32 84 69 79 fax
BlueSky Business Aviation News | 11th January 2018 | Issue #446