Gulfstream Aerospace Corp. recently delivered a fourth Gulfstream G650ER to Qatar Airways for its Qatar Executive commercial charter service, making Qatar Executive the largest single owner-operator of G650ER aircraft in the world.
Gulfstream established a partnership with Qatar Airways when the carrier became the international launch customer for the Gulfstream G500 in 2014. Since that time, Qatar Airways established an agreement for up to 30 Gulfstream aircraft, a combination of firm orders and options that includes the flagship G650ER, the G500 and its sister ship, the Gulfstream G600.
"Gulfstream delivered the first G650ER for air charter operations in the Middle East to Qatar Executive in 2015," said Mark Burns, president, Gulfstream. "At that time, Qatar was interested in introducing a new and enhanced level of service to its customers and determined that Gulfstream aircraft were the ideal choice to do so. We are proud to continue that relationship with this milestone and value the confidence Qatar Airways has in Gulfstream and our employees who design, manufacture, service and support these aircraft."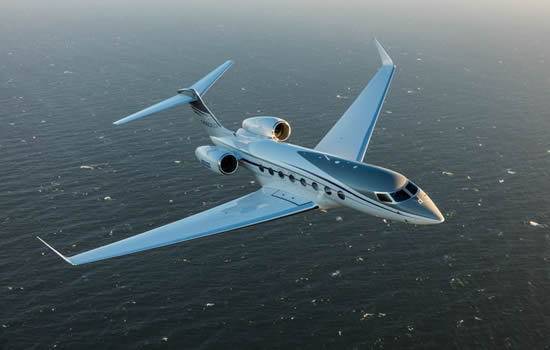 Gulfstream G650ER
"The demand from our customers for longer range private air travel continues to grow," said Qatar Airways Group Chief Executive, H.E. Mr. Akbar Al Baker. "Taking delivery of our fourth Gulfstream G650ER executive jet, making Qatar Executive the largest single owner and operator of G650ER luxury private jets in the world, means we can continue to meet this demand."
Qatar Executive's G650ER service can connect Doha nonstop to Cape Town or Tokyo or New York to Doha. The G650ER has a range of 7,500 nautical miles/13,890 kilometers at Mach 0.85 and a top operating speed of Mach 0.925.
In the cabin, the G650ER features an award-winning interior design, 100 percent fresh air, the lowest cabin altitude in the industry and 16 large Gulfstream panoramic windows. Passengers can stay connected with internet, phone and onboard printing capabilities.
G500 entering final series of certification tests
In further news, Gulfstream Aerospace Corp.'s all-new family of business jets, the Gulfstream G500 and G600, continue to make solid progress toward anticipated U.S. FAA type certification this year.
The G500 is entering the final stage of its flight test and certification program, while the G600 recently completed company field performance testing.
"Both programs remain on track and are methodically moving toward their respective type certifications," said Mark Burns. "The five aircraft in each program continue to exceed our expectations. Given the recent announcement about our range increases, this is pretty remarkable, even for Gulfstream."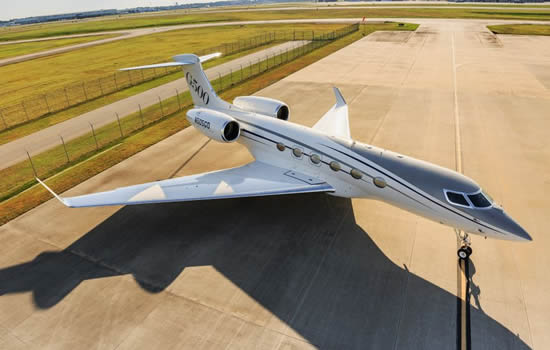 Gulfstream G500
To date, the five G500 aircraft have accumulated more than 4,250 flight hours over more than 1,175 flights. The fourth G500 to enter the flight-test program is poised to begin function and reliability testing, which marks the capstone of a flight-test program and serves to demonstrate the overall reliability of the aircraft's final engineering designs. These FAA-mandated flights total 300 hours and are used to evaluate how the aircraft behaves in conditions representative of normal in-flight operations, including hot, cold and humid environments.
Gulfstream has gone beyond what the FAA requires for certification by flying a fully outfitted production G500 more than 400 hours. The aircraft is currently on a world tour to demonstrate its cutting-edge design to customers and potential customers.
The G600, meanwhile, has amassed more than 1,395 flight hours during more than 360 flights. Next on the aircraft's schedule is FAA certification testing for flyover noise.
Gulfstream announced performance enhancements for the G500 and G600 in October 2017. The G500 can fly 5,200 nautical miles/9,630 kilometers at Mach 0.85 or 4,400 nm/8,149 km at Mach 0.90, while the G600 can travel 6,500 nm/12,038 km at Mach 0.85 and 5,100 nm/9,445 km at Mach 0.90. The maximum operating speed for both aircraft is Mach 0.925.
Even with these performance enhancements, the G500 customer delivery schedule remains the same, with deliveries set for 2018, as originally promised. G500 certification includes additional testing required for the enhanced performance and is anticipated in early 2018.
The G600's anticipated certification and service entry are slated for 2018.